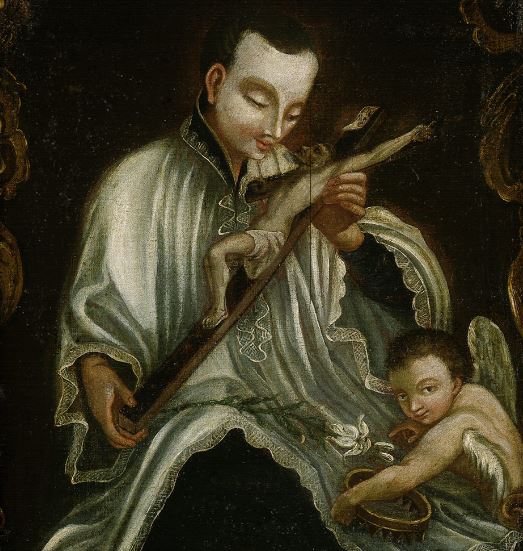 What an inspiring young man, St Aloysius is. Not for any great deeds is he known, in many ways his was a very ordinary life lived quietly. But his faith led him to turn his back on his wealthy inheritance and to go and serve the poor and the sick when a famine and disease broke out in Italy which eventually cost him his life.
He was born in the castle of Castiglione, on the 9 March, 1568. Baptized Luigi he was the eldest son of Ferrante, the Marquis of Castiglione. Luigi's mother was lady-in-waiting to the wife of Philip II of Spain, in whose court the Marquis also enjoyed a high position.
As the eldest son Ferrante had high hopes for his son's military career. From a very young age he was given a set of small guns and taken out on expeditions so that he might learn how to shoot well. His Father would dress him up in the armour of the day and take him to meet the solders in his employ. Luigi learnt some very choice words from these solders but it did not create in him the desire his father hoped it would. In fact it had quite the opposite effect: Luigi learnt very early on that that was not the life for him. When Luigi was eight  years old he was placed in the court of Francesco de'Medici in Florence. But again, rather than being fascinated with the intrigue and backstabbing in the decadent world of the Medicis, Luigi withdrew into himself, refusing to participate in what he saw as an essentially corrupt environment. At ten, disgusted by his situation, he made a private vow never to offend God by sinning. It was here that Luigi began to live a life of  penance and austerity.
After living for two years with the Medicis Luigi was then sent to live with relatives in Mantua.  Here one of the families had a lovely chapel and Luigi would find himself drawn to sitting quietly and saying his prayers, reading the psalms and studying the lives of the saints. Here in the quiet of this holy place a stirring towards the priesthood began to take hold of the young lad. After returning to Castiglione he continued his practice of reading and penance. When he was twelve St Charles Borromeo visited his family and on learning that the boy had not yet made his first Holy Communion prepared him for it himself.
When he turned thirteen, in 1581 he went with his parents to Spain. He and his brother were made pages of the heir apparent, James, the son of Philip II. While he was in Madrid he found himself a confessor who happened to be a Jesuit. This relationship was influential in his decision to become a Jesuit. After the death of the James in 1584 he returned to Italy, where he announced his decision to enter into the Jesuit community. This led to the most unholy row with his father who threatened to have him flogged. His father immediately sent Luigi and his brother on an eighteen month tour of the courts in Italy. But on their return Luigi was still of the same mind and his father finally relented allowing him to pass his inheritance to his younger brother.
He presented himself to Father Claudius Acquaviva, who was then General of the Society. On entering the order Luigi took the name Aloysius. He proved to be a very capable student. He took his vows  of poverty, chastity and obedience on 25th November, 1587. The next year he received minor orders and began to study Theology.
At the beginning of 1591, a plague broke out in Rome. Many people died. Aloysius began to help tend the sick and the dying. He brought the patients to the hospital the Jesuits had founded and tended to their needs. He prepared many of them for the sacraments. He threw himself wholeheartedly into this task. However it was not something he found easy. He admitted to his spiritual director Fr. Robert Bellarmine that the work repulsed him as he found it very difficult to cope with the sight and smell of the victims.
As the Jesuits worked hard to help the people many of them became infected by the disease. Aloysius' superiors forbade him from going back to the hospital to tend to them. They did not take into account Aloysius stubborn nature, he persisted in asking permission to go back and tend the sick. And like his father before them eventually his superiors  granted permission. However he was not allowed to return to the same hospital but was sent to one where the diseases were not contagious. While administering to a man who he gave his own bed to it was discovered that this chap in fact had the plague. Aloysius contracted it from him and became very ill and was bedridden by March 3, 1591.
Aloysius seemed to pick up and there was hope that he would get better. But as the fever and cough got hold of him he went into decline. Eventually on the feast of Corpus Christi he breathed his last holding onto his crucifix whispering the name of Jesus. He was twenty three years old.
Although Aloysius had a great desire to be a saint some of his practices were frowned upon by the Jesuits. He was told to conform to their way of doing things. He needed to eat more and pray at the specific times the community prayed and to enjoy some relaxing activities. This was a penance in itself, but Aloysius recognized that  maybe he had been to ardent in his austerity as a young man, but there had been no one to guide him.
In honour of this humble saint instead of cooking up a feast why not try a good Italian soup with some lovely bread.
Minestrone Soup
1x 14oz/400g can of cannelloni beans

1 large onion chopped

3 carrots peeled and chopped

2 sticks of celery chopped

2x14oz/400g tins of chopped tomatoes

3x clove of garlic chopped

1/2 a green Savoy cabbage chopped

1.2litres/2pints of vegetable or chicken stock

75g/3oz of dried pasta

Good pinch of mixed herbs.
Fry onions, carrots and celery in a bit of olive oil for about 10 minutes until softened.Season with salt and pepper and herbs. Add the garlic, tins of tomato and stock. Cover and simmer for about 15 minutes until vegetables are cooked. Add beans and pasta cook for a further 10 minutes or until the pasta is cooked. Add cabbage and cook for a further few minutes. If the soup is to thick thin with some boiling water.
Ladle into bowls and top with some lovely Parmesan cheese, serve with warm crusty bread!
Tags: St Aloysius