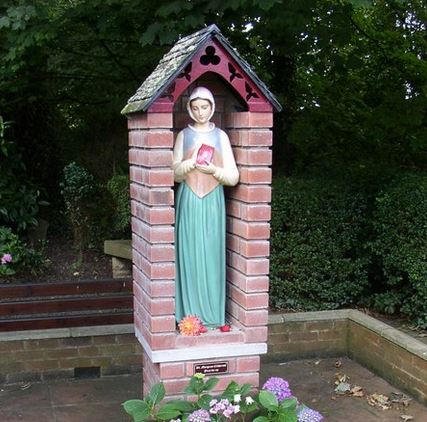 [St Margaret's feast tends to get forgotten because it falls on 25th March, the Solemnity of the Annunciation. So this piece is being posted today instead.]
Like many Yorkshire women, Margaret Clitherow was not afraid of hard work and didn't lack courage. Known as the Pearl of York, she gave up her life for her faith on the 25th of March 1586.
Born in 1555 she was raised in the Protestant faith by well-to-do parents. In 1571 she married John Clitherow a local grazier and butcher, they had three children, two sons and a daughter. Three years after her marriage Margaret converted to Catholicism. Her husband, whose brother was a Catholic priest, was very supportive of her even though at times it could prove embarrassing, as he was supposed to report people who failed to attend official church services. On a number of occasions Margaret found herself in prison; during these periods of confinement she taught herself to read and write.
Margaret was very fervent in her faith, she often had Mass said in her home and was always hiding priests. A hole was built into the attic of her home and the adjoining house so in the event of a raid the priest could escape.
The Clitherows sent their eldest son to Douai in France to study. This caused all sorts of problems for Margaret's husband who was called to give an account as to where his son was.
Shortly after this their house was raided. Margaret had many friends and supporters and none of them would give her away, but unfortunately they had a young Flemish boy staying with them and on being threatened he showed the authorities the priest's room and the place where the vestments etc were kept hidden.
Margaret was arrested and sent to the Guildhall for trial. She refused to enter a plea, this meant her children and servants could not be called upon to give evidence against her. By doing this Margaret knew she could keep her family out of any involvement in her death. She was condemned to death by "Peine forte et dure" which meant being pressed to death.
On Good Friday 1586 Margaret was led out, her arms were stretched out and tied to posts, a sharp rock was placed under her back and a door was placed on top of her, heavy stones were then placed on top of that, Margaret died within about fifteen minutes crying out to her Lord to have mercy on her.
Margaret's bravery was not lost on her children; her two sons went on to become priests and her daughter became a nun at St. Ursula's in Louvain.
Margaret was elevated to sainthood in 1970 by Pope Paul VI.
It would be very fitting to make Yorkshire rock cakes  to help celebrate this feast day. A rock cake is similar to a scone but tends to have more fruit in and is bigger. You could pile a batch of these up on a chopping board and serve them at tea-time.
Yorkshire rock cakes
8oz/225g self-raising flour

4oz/110 butter/margarine

2oz/55g sugar

6oz/150g mixed dried fruit e.g sultanas, raisins, currants.

1tsp cinnamon

1/2 tsp nutmeg

Zest of 1 lemon

1 egg

1-3 tblsp milk

Rub butter into flour until it resembles fine breadcrumbs. Stir in sugar, spice, zest and fruit. Add eggs and milk to make a stiff batter. Spoon 12 mounds onto greased baking trays. Bake for 15-20mins in an oven set at 200/400/gas mark 6.

If you wish you can add a couple of cherries and almonds to the top prior to baking to symbolize red for martyrdom and the white of the almond for purity.
Tags: St Margaret Clitherow