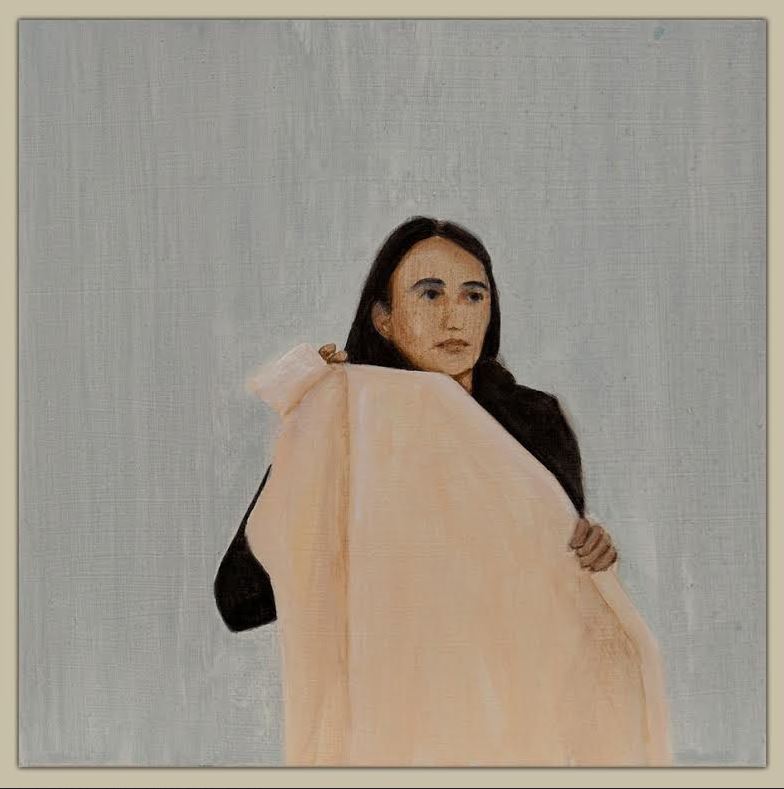 Each artist was given the title of a Station together with an identical blank twelve inch square aluminium panel. They were completely free to respond to their allocated subject in whatever way they chose. I knew this might be something of a risk for several reasons; and there was clearly a danger of ending up with fourteen images that bore little or no relationship to each other. The other hazard was that the artists might use their paintings for ideological purposes seeking to ridicule belief.  But they didn't, and individual works exhibited a respect for the subject and a seriousness of purpose that brought the individual pieces together as the Brentwood Stations of the Cross.
The first Station, Jesus is condemned to death, by David Ainley introduces many of the concerns of contemporary art. He eschews pious illustration in favour of an image that is saturated with multivalent meanings. Ainley has created a chalky-white picture plane etched with vertical grooves. A simple cross cut from the support has been slotted, rather like a jigsaw piece, back into the painting. The monochrome surface could be thought of as symbolising the blank mental response of the condemned Jesus. The Cross, cut out of the blankness, is thus a momentary recognition of his fate. Below the surface image, traces of colour are visible, which were Ainley's original colour analysis of The Arrest of Christ by Fra Angelico. His Cross could be either a kiss or a multiplication sign, or even possibly the X factor of someone special. Alternatively, it could perhaps be 'X marks the spot', a mark that highlights something that is wrong or needing to be eliminated. Ainley allows these associations to build up a picture of Christ.
The sign of the Cross appears as a visual leitmotif in many of the stations. Sometimes it acts as a strong geometric form that can bear the weight of abstract ideas as in Pen Dalton's Jesus falls the Second Time, where the Cross fixes an amorphous wave of biological matter or in Susan Gunn's Jesus is taken down from the Cross, where geometry scythes a distressed picture plane. In other works, the Cross becomes a theological hieroglyph needing to be deciphered. Ruth Philo's tenth Station, Jesus is stripped of his garments, dissolves the image back to almost nothing, and we are left with a pink fleshy hue etched with scratch marks, including a central, spidery cross. This is a death of a thousand nicks and cuts, a violence that is at once both subtle and brutal. While working on this Station the artist was inspired by a comment found in Dietrich Bonhoeffer's Letters and Papers in Prison, "Even in this place we ought to live as if we had no wishes and no future and just be our true selves."
Other artists have decided to focus on a physical detail. Robert Priseman's Jesus is nailed to the Cross isolates two iron nails. Using recent archaeological evidence, Priseman paints them to the actual size and dimensions of nails found in crucified bodies. Without resorting to a cheap torture porn image, this station's understated account of the physical sadism that Christ endured moves the viewer to compassion. The London-based artist, Matthew Krishanu hones in on the textile used by Veronica to wipe the face of Jesus. Veronica, whose name means true icon, is the proto image-maker of Christ. She holds in her hands a length of cotton calico, a surface historically favoured by painters. In this image, Krishanu seems to highlight the moment of uncertainty experienced by any artist as he or she approaches Christ in an effort to capture his image. For Gideon Pain, the detail in Jesus meets his Mother of Mary and Jesus reaching out for each other, their fingers straining to make contact, articulates the cruelty and heartbreak of the moment.
A memory or psychological state has also provided a source of inspiration. For example, Marguerite Horner's station, Jesus dies on the Cross, "was inspired by an experience I had in Venice many years ago when I was going through a particularly difficult time and so, in a state of near desperation, I went into a church and prayed for help…I was laying the burden of my suffering at the foot of the Cross, hence the fiery red flowers." Susie Hamilton's Jesus meets the women of Jerusalem articulates the state of grief with a looseness of brush stroke.
Ideas about location and place occur in the works of Freya Purdue, Jesus carries his cross, and Linda Ingham, Jesus falls for the first time. Purdue has created a contemporary labyrinth, a single simple route that she has ornamented with gem like punctuation that symbolise each station. The image acts as a spiritual satnav that helps the viewer to see where she is in relation to the way of Christ's suffering. Linda Ingham imagines Jesus's fall through a grille of thorns. In her landscape, the foreground is presented as something jagged and forbidding, yet beyond this lie warmer, less threatening plains. In every fall, Ingham reminds us, the strong desire to lift oneself up and press on remains. In theological terms, this means Christ pushing through his sufferings and embracing Calvary.
Artists who make no claim to a personal faith have inevitably approached their Station through the lens of their own absence of religious conviction. Andrew Crane uses plaster, kindling and oil paint to sculpt a response to his title, Simon of Cyrene helps Jesus carry the Cross. There is an earthiness about his image that reminds us of how the smallest act of kindness grounds our humanity. Crane has broken a piece of kindling wood and then reassembled it on the aluminium plane in the form of a Cross. For him this resonates with the words of Jesus quoted in the apocryphal Gospel of Thomas, "Split a piece of wood; I am there."
David Sullivan, an avowed humanist, sees in his station, Jesus falls for the third time, universal resonances. "Falling Christ, forced to the ground under the weight of his Cross is a powerful metaphor for humanity's descent towards despair," he says. The abstract image Sullivan creates defies easy deciphering and weighs heavy on the mind of the viewer.
Both the presence and the absence of the divine are recurring motifs in these works. Alex Hanna finds in a discarded, empty pill packet a symbol that communicates the event of Jesus being laid in the tomb. At one level, this is an image of an object that has been used and discarded, and is no longer considered of value. However, Hanna invites us to look beyond the utilitarian and to meditate on the beauty and life-giving power of that thing or person. In Simon Carter's fifteenth station of the cross, Jesus rises from the dead, a faceless figure wearing a floppy gardener's hat stands square on to us. We know it is meant to be Jesus, but we inevitably struggle to recognise him. In this failure, we experience something of the same uncertainty of those disciples who first encountered the risen Christ.
The artists who created the Brentwood Stations of the Cross have approached this challenge with the same creative openness and intellectual rigour that they would apply to any other subject; and this project has shown not only that art and faith can find creative ways to talk to each other, but that they have a moral imperative so to do.
The question now is, can the believers who encounter these images during the season of Lent manage to do the same?
The Brentwood Stations of the Cross are on show in Brentwood Cathedral from Ash Wednesday until Good Friday. For more details see here.
A book, The Brentwood Stations of the Cross, with images of the stations and reflections by the artists involved on their work is available to purchase on Amazon.
[See part 1 of the post here: "Religion and art in dialogue"]
[See part 3 of the post here: "The full programme of events"]