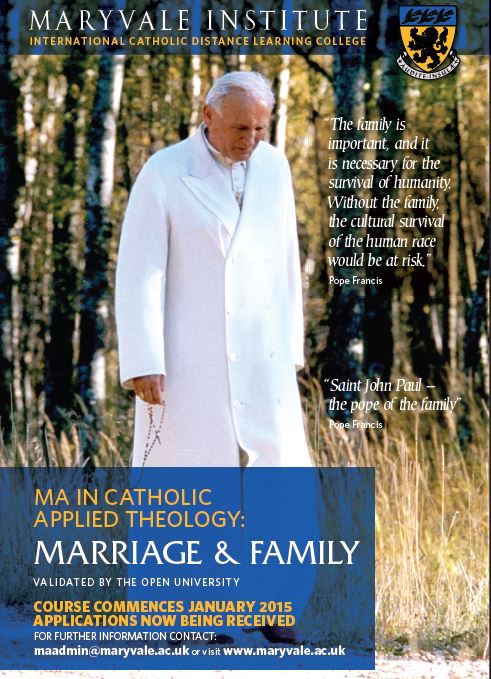 With the Synod coming up, it's a good time to advertise this MA on Marriage and Family at Maryvale. See the site here for more information, and the blurb copied below.
This programme teaches the beauty of the Catholic vision for marriage and family life and is informed by the teaching of Blessed John Paul II. It is rooted in the truth of the human person created in the image and likeness of God who, "calling man to existence through love, He called him at the same time for love…Love is therefore the fundamental and innate vocation of every human being" (FC11). It is this 'vocation to love' which lies at the heart of marriage and family life. This programme is suitable for those preparing for or living the vocation to marriage and family, and will be of interest to people involved in marriage preparation, pastoral care of the family, counselling as well as those involved in education, pro-life work, law, medicine and government and public policy.

Aim of the Programme

This pathway aims to deepen the students' knowledge and understanding of the Catholic vision for marriage and family particularly as informed by the teaching of Pope John Paul II, and to enable them to reflect critically on this knowledge and understanding in response to the need to enrich marriage and family life.

Programme Content

The areas covered include:

Marriage in Sacred Scripture: a Covenant of Love
Christian Anthropology: A Vocation to Love
Living in Christ: an Introduction to Fundamental Moral Theology
The Sacrament of Marriage: 'Loving as God Loves'
Love and Fruitfulness: Marriage and Family in the Teaching of the Church
The Contemporary Socio-Political Context of the Family
Love, Marriage and the Family: A Psychological Perspective
Research Methods

For further information contact:

MA Academic Administrator,
MA in Catholic Applied Theology
Maryvale Institute,
Maryvale House,
Old Oscott Hill,
Kingstanding,
Birmingham B44 9AG

Tel: 0121 360 8118
Fax: 0121 366 6786

Click here for the Course rationale.

To download an information pack please click here.

To download an application form please click here.