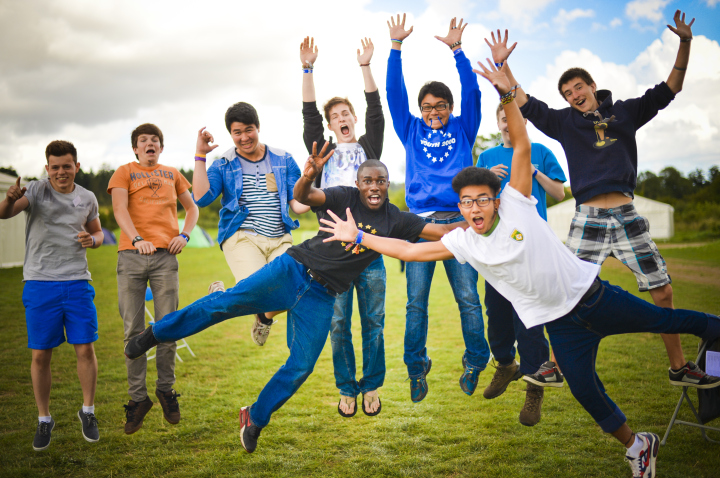 I'm just back from the Youth 2000 Summer Festival in Walsingham. One of the many highlights was the final evening of Thanksgiving and Testimony, where a good twenty or so young people had the courage to stand up and speak about how their lives had been touched by the weekend. Often simple things: learning to forgive someone; a deeper faith in the Eucharist; the clarity to make a difficult decision; thinking about vocation for the first time. And one or two very dramatic stories of small miracles that had taken place in their lives.
The Festival was in part a celebration of 25 years of Youth 2000. Here is the introduction I wrote for their commemoration booklet:
What is Youth 2000? It's a witness to the beauty of the Christian faith. It's an experience of the Church. It's the love of Christ, and of his mother Mary, transforming the lives of young people.

There is nothing extraordinary about the content of a Youth 2000 retreat. It's just Catholicism pure and simple. The Eucharist at the very centre; dignified and joyful worship; devotion to Our Lady; the teaching of the Catholic Church presented in a straightforward, unapologetic, inspiring and practical way; the power of conversion through the sacrament of confession; the challenge of connecting faith with life, study, work, relationships; the call to vocation and service; lay people, priests and religious sharing their lives very naturally – and being renewed in their own vocations; prayer, music, food, fellowship, fun; young people serving other young people, and witnessing to their own personal faith.

The fact is that it 'works'. I don't mean there is some kind of magic formula that can guarantee you a profound spiritual experience or a radical conversion. I just mean that when the Catholic faith is lived joyfully and presented with real integrity, then it touches people. When you see the 'wholeness' of the Christian faith – teaching, sacraments, community, mission – and when you see the way this faith transforms the lives of ordinary young people, you can't help being changed yourself.

It's a beautiful thing to see the hearts of young people gradually open up to the Lord as a retreat unfolds; to see the almost tangible effects of his grace on their lives – a sense of peace and spiritual joy, a knowledge of his mercy, a new sense of purpose, a desire to share their faith, a living hope.

The whole purpose of Youth 2000 is for young people to evangelise young people, to lead them to Christ and his Church, so they can live their faith in their parishes and communities. I thank God for what he has given to the Church through Youth 2000. I pray not just that it will continue the wonderful work it has done over these twenty five years, but that it will be brave and adventurous enough to find new ways of evangelising, risking anything and everything in order to share Christ's love with others.
Tags: Youth 2000