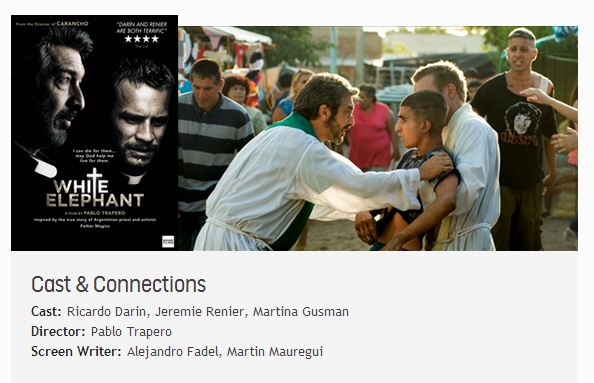 Much has been made of Pope Francis' work in the Argentinian slums before being elected Pontiff.  An interesting point of reference is the 2012 feature film "White Elephant", a subtitled movie set in the villa miserias (literally 'villas of misery'), on the outskirts of Buenos Aires.
The film depicts the struggles faced by Fr Julian, a Roman Catholic priest, who runs a social project in the heart of the slums alongside fellow priests and social workers, under the shadow of a failed building project called the 'White Elephant'.
Although a work of fiction, the film (and the protagonists) take inspiration from the real-life figure of Fr Carlos Mujica, the 'slum priest', who was violently murdered in 1974.  A controversial figure – Fr Mujica was criticised in some quarters for his Marxist tendencies and liberation theology – he was, nevertheless, a highly influential presence in the Argentinian slums, to the extent that the film makes a case for his canonisation.
If not a point of reference for Pope Francis' teaching on the poor, the film certainly portrays a destitute, violent, erratic and deeply religious community, countered by moments of beauty, compassion and humanity…faith in action. It's worth a watch.
This is from the film website:
Father Julian and Father Nicolas are dedicated to helping the poverty-stricken people of the Villa Maria slums in Buenos Aires. But they find themselves in danger when a conflict between local criminals escalates into violence. Julian and Nicolas have no choice but to seek help from the local police. But when the corrupt law enforcers refuse to help, Julian and Nicolas are forced to help the innocent people on their own. Subtitled. Strong drug use, language, graphic injury and sex.
"White Elephant" will be available to download on BBC iPlayer until Monday 20 January 2014.  It can also be rented from Film4oD

Tags: Argentina, film, Pope Francis