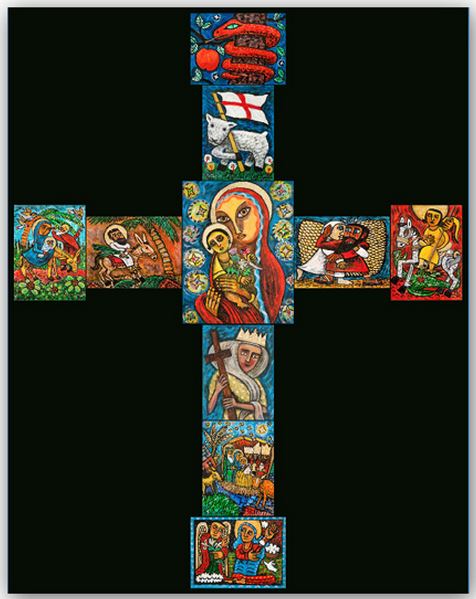 From 1 – 23 December, Brian Whelan's new work, the Brentwood Cross, will be on display in Brentwood Cathedral, Essex. With its rainbow-burst colours, child-like playfulness and vividly realised depictions of Biblical scenes, this work will attract a wide audience. To see some images of the Cross click here.
In times gone by, when few people were literate, the visual image was the main tool of catechesis. Religious art was not just a form of decoration. It had a more serious intent. It was a teaching tool, a way of making the stories of the Bible and theological ideas accessible to people. Paintings, icons, stained glass, and sculpture all played their part in communicating profound theological truths. Brian Whelan's cross does just that. The whole of salvation history is contained in the paintings that make up this bold and daring work. This is theology in art form.
But the Brentwood Cross is not simply a tool of catechesis. It is a thing of beauty, a vivacious, youthful, joyful beauty.  Art without beauty is horribly castrated and faith without the experience of beauty can never encounter God, the origin of all that is beautiful. As the theologian, Hans Urs Von Balthasar, puts it:
We can be sure that whoever sneers at her name as if she were the ornament of a bourgeois past – whether he admits it or not – can no longer pray and soon will no longer be able to love.
Brian Whelan's Brentwood Cross will help us to think more deeply about our faith, but, more importantly, it will help us during Advent to pray and to better love Jesus Christ. For more information click here.  Why not pay Brentwood Cathedral a visit this Advent?
Tags: art, art and faith, beauty, beauty and faith