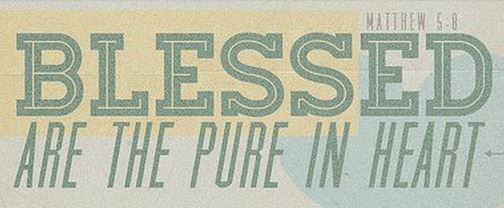 Pure in Heart is a group of 18-35 year olds who seek to live out the Catholic Church's teaching on chastity by means of prayer, friendship, study and mission. Pure in Heart started in Ireland following an experience of a group of pilgrims at the World Youth Day in Rome in 2000. They were inspired while listening to Blessed John Paul II talk about the need to share the Gospel in our culture and in particular to grow in an understanding of the Church's teaching on sexuality.
Three years ago, inspired by this vision, I left my job as a school chaplain in North London to look at starting Pure in Heart in the UK. It is now up and running!
Prayer, Friendship and Study – The Pure in Heart group meets weekly in London. The evening begins at 7pm with a Holy Hour of Adoration before the Blessed Sacrament, which includes silence, song, praying the Rosary and listening to Scripture. After the time of prayer the group meet socially and to study. At present they are working through the book 'Introduction to Theology of the Body' by Christopher West.  It is vital to create a sense of community within the group to encourage us to live out what we are learning about and talking to others about.
Mission – The support received through prayer, study and friendship prepares the group to live a life of chastity and to be a witness in the world. The weekly meeting equips us for mission on the front line, supporting each other in chastity. The prayer is vital – it is the foundation for our lives.
Pure in Heart members give talks to Confirmation groups, secondary school students and university students. The sessions may last from one hour, to half a day. We try to make sure a man and a woman give the talk together. We also make it interactive with video clips, discussions and feedback.
There is always great interest in discussing sex and marriage. For many young people their own parents aren't married, or are divorced, and since this affects them so personally, it interests them, because it's real life! They always have good questions (such as asking if it is OK to read '50 Shades of Grey'…) Homosexuality is a hot topic too that young people want to talk about. We want them to ask honest questions and will always give an answer contextualized within the Church's teaching. To help them understand the 'why' behind the 'rule'.
One of our young speakers, Conal, has given many talks since he joined Pure in Heart in his native country of Ireland. He explains the approach to the talks:
We always begin with the positive, explaining that sex is a good thing and that this is good news. We look at the meaning of sex and affirm that desire is good and natural, but it is something we need to order and orientate toward our own true happiness and our own good. The central message is about love – chastity is about a deeper understanding of living out the desire to love and God's love for us. Most Catholics think the church says a big 'no' to sex, but in fact it is a big 'yes' to a higher form of love. Everyone wants love, so this is a way of how to achieve it.
Real, true love is possible – When the team share the good news of God's gift of sex, many young adults respond by asking: 'why have I never heard this before?' and a desire is awakened to live real, true love in their lives. However, as Pope Francis has been saying recently, the key to the Christian life is knowing the Gospel. The Gospel is the good news that you were made by love, for love. In contrast to what society may tell us, chastity is a way to encounter real, true love.
For more information about the UK group, see the Facebook page here.
[This article first appeared in the Westminster Record. It is re-printed here with permission, with some slight changes by the author]
Tags: chastity, dating, friendship, love, Pure in Heart, Relationships, sex