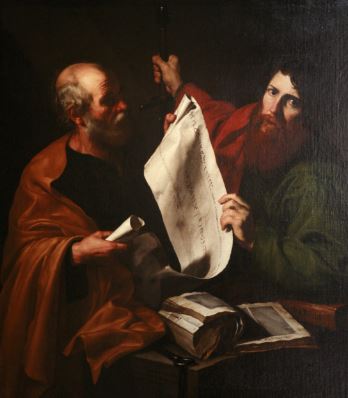 I remember a few years ago coming across a prayer which seemed to speak straight to me. It went something like this; "Lord: don't look now I have my foot in my mouth again. The Lord said: My child if I only ever get to look at you when you don't have your foot in your mouth, then I'll  never get to look at you." It gave me hope because I always seem to be doing or saying the wrong thing. That is why I love today's feast – because I am in the company of some men who did the same thing, but not withstanding that, the Lord went on to use them to do great things for him. So though I would not put myself in their league it's good to know that two of the greatest stalwarts of the Church often behaved in the same way.
St. Peter never seemed to get it right. He set out to walk on water boldly going towards Jesus, but takes his eyes off him and begins to panic, flounder and sink. Jesus asks his disciples who they think he is, Peter confidently replies "you are the Christ," for this he's praised; but in the next moment he's being called "Satan" when he stands in the way of Jesus' mission. He continues to blunder and fall right up to the end when he  abandons Jesus in the garden and then vehemently denies knowing his master. And yet, Jesus chose to build his Church on this cracked earthenware pot, with all his faults and failings. This gives us great hope. Ordinary people can do extraordinary things with the help and grace from God.
St. Paul was another chap who started out with a very iffy background. He persecuted the early Church with a fervour that was breathtaking,..in a bad way! Paul was complicit in murder, he was full of self-righteousness and was determined to rid the area of these people who were following this Christian "new way."
However, God had other plans (doesn't he always!). On the way to Damascus Paul experienced a very powerful conversion which completely turned his life around. But this also tells us something about the man. Once convinced of the truth he threw himself wholeheartedly into the mission God had placed before him. Through the Scriptures we can see that Paul is completely engaged in and defined by his role as an apostle. He never shied  away from confrontation and often found himself on the wrong side of authority. He spoke with confidence and zeal and he was passionate about Christ and the Gospel.
Each of us, like St Peter and St Paul have received a specific call to serve God in a particular way. Each day we receive an invitation to follow him in our own circumstances. Like these two great men we have to be generous with the Lord  as we encounter him. Like St Paul when he asks "What shall I do Lord?" We seek his guidance and pray for the courage to follow.
Both these men have given their all for their Saviour. They fearlessly faced death completely trusting in the promises of Jesus. The writings of St Peter and St Paul always have and will continue to challenge people to live a life of uncompromising faith, placing their hope in Jesus Christ. May we continue to follow their example.
For many counties today is a day of great celebration, street parades, bonfires, and if you live near a costal town fishermen often decorate their boats with flowers and bring holy statues on board.  So however you celebrate the lives of these two great men make sure you do it in style. As for me and my house, today we will celebrate this feast by eating fish and chips in honour of a fisherman who became one of the greatest fishers of men.
Tags: St Paul, St Peter, St Peter and St Paul