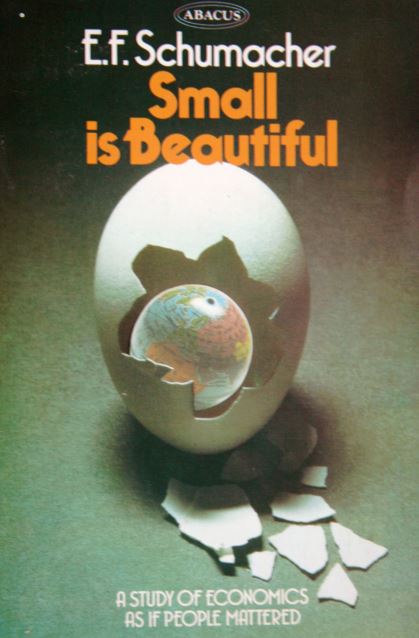 As Christians we are called to loving service, and as adults we spend a third of our waking lives at work. So how do we turn our work into service? One of the deepest modern thinkers on this topic became a Catholic towards the end of his life. He did so after reading deeply in Catholic Social Teaching, and just before writing one of the most influential books of the century. The book was Small is Beautiful, and its author a German economist who settled in England, named Fritz (E.F.) Schumacher.
Schumacher had a huge theoretical and practical knowledge of the world of work. He taught economics at Columbia University. Then he was employed as his day-job as Economic Adviser to the National Coal Board. He was President of the Soil Association, which promotes organic farming, a Director of the Scott-Bader Company, a cooperative which makes polymers, and the Founder and Chairman of the charity Intermediate Technology. He wrote about work:
Traditional wisdom teaches that the function of work is at heart threefold: (1) to give a person a chance to utilize and develop his faculties; (2) to enable him to overcome his inborn egocentricity by joining with other people in a common task; and (3) to bring forth the goods and services needed by all of us for a decent existence.
In using our talents, we find joy in our work. In working with others, we grow in love. In accepting a worthwhile job and doing it well, we make the world a better place for others.
Schumacher turned on its head the assumption of conventional economics that people choose to work as little as they can manage to get the money they want. If work is good work, he points out, people will choose freely to do it. Do you work because you have to, or because you want to? Is your own work 'good work'? If not, can you do something to make it better?
Tags: ecology, economics, Schumacher, small is beautiful, work