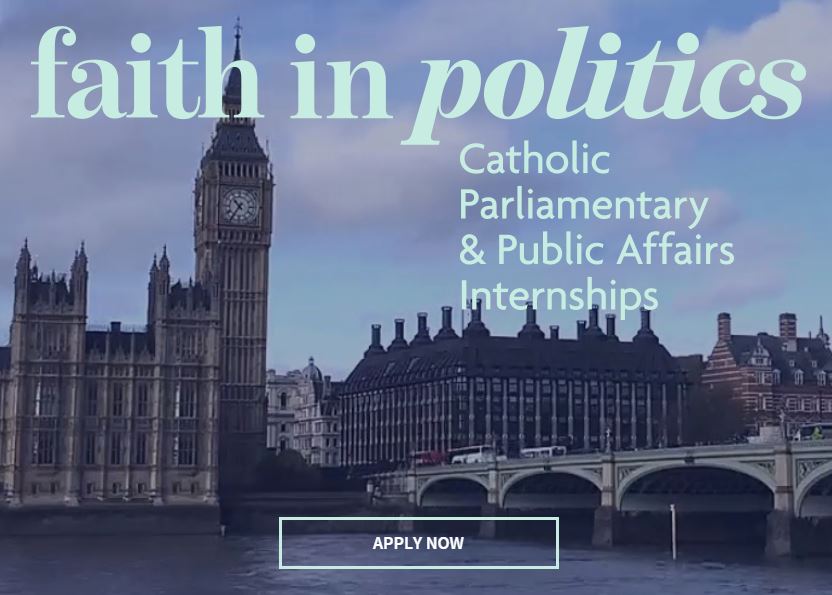 The Catholic Parliamentary and Public Affairs Internship Scheme, which began in 2003, provides eight recently graduated Catholics with intensive experience of political and social action in a spiritual context. Four interns will be placed with Christian MPs at Westminster, one in a parliamentary support role within the Secretariat, two in public policy and social action with CAFOD and CSAN, and one in a media internship with the Catholic Communications Network (CCN).
In addition to educational work experience, all of the internships also involve individually guided retreats and spiritual guidance throughout the year, studying Contemporary Ethics and Catholic Social Teaching at Heythrop College, as well as exploring the political landscape and the Church's involvement in social action through a series of events.
For full details see the website here. The application deadline has been extended to 22 Feb 2016.
At a glance requirements
To apply for the Internship you must:
1. Be a Catholic
2. Be academically strong, having achieved or expected to achieve either a good 2:1 or a First.
3. Have UK Residency or indefinite leave to remain in the UK
FREQUENTLY ASKED QUESTIONS:
How will the Catholic Parliamentary and Public Policy Internship benefit me?

Whether you work in the Westminster, Public Affairs in a National Catholic Agency, or in media at Archbishop's House you will, at the end of the scheme have gained invaluable experience, knowledge and networking opportunities. Not to mention gaining a Masters-level study and familiarisation with the work of the Catholic Church and its agencies. The spiritual guidance and retreat will provide you with opportunities to reflect on the faith dimension of the experience and assist you in discerning your future vocation.
Why do I have to be a Catholic?

The Catholic Parliamentary and Public Policy Internship scheme is an initiative of the Catholic Bishops in England and Wales specifically aimed at young Catholics seeking to discern a vocation to public service and political leadership.The year's internship consists of four related elements designed together to provide an intensive experience of social and political engagement in a spiritual context with this specific aim in mind. These comprise individually guided retreats, academic studies of Catholic social teaching, a series of visits to secular and religious institutions including to the European institutions and the Vatican, and finally work in the office of a Christian MP. The interns all live together in the Catholic chaplaincy at London University. Taken together these elements are designed to combine to deepen the experience and Catholic faith of the interns.

At the outset of the scheme it was agreed that we should work not only with Catholic but also other Christian MPs. We in fact seek to work with different MPs each year, and it is understood that the interns are there for an educational experience. However, the scheme is designed specifically, and funded specifically through fundraising, for young Catholic graduates, and the elements of the scheme come together taking this as a starting point.

There are other internship programs through which graduates can seek to work with MPs. There is, for instance, a similar scheme run by CARE for Christians of other denominations with whom we liaise and they work with Christian MPs of varying denominations as well.

The requirement for a Catholic is appropriate under Schedule 9 Part 1 Para 3 of the Equality Act.
How is the scheme funded? Where will I live?

As interns, you will be selected on the basis of ability and potential to gain most benefit from this experience, limited financial support is provided. Interns will have subsidised catered accommodation in central London and an allowance to cover living and travel costs for the duration of the internship.

Will there be someone I can go to in case of problems?

A Bishops' Conference staff member will be assigned to you to keep in touch regularly and ensure all the practical aspects of your internship are going well throughout the year.
Am I the kind of person you're looking for?

We are looking for current final year undergraduates or recent graduates who:

Are committed Catholics with integrity, a strong sense of vocation to social action, seeking to bring their faith to life
Have varied life experiences
Are academically strong, having achieved or expected to achieve either a good 2:1 or a First
Have exceptional initiative, drive, flair and creativity
Are highly responsible with good interpersonal skills and discretion
Have excellent oral and written communication skills
All applicants must be resident in the UK

Information for Members of Parliament and organisations taking an intern

The scheme runs from September each year to the following July. The internship year combines four elements: work in the office of a Member, study (the part time MA programme in Christian ethics at Heythrop College of the University of London), spiritual formation including an opening and closing retreat, and a series of meetings and exposure visits (including to Brussels and Rome). The scheme is fully funded from donations to the Bishops' Conference specifically to support the initiative. The scheme runs at no cost to the Member and although the internship scheme is an educational programme rather than employment, interns all receive grant support equivalent to the Living Wage, including free accommodation. It is run on an all-party basis and each year we seek to place interns with Catholic MPs (or Christian MPs of other denominations) from different parties.