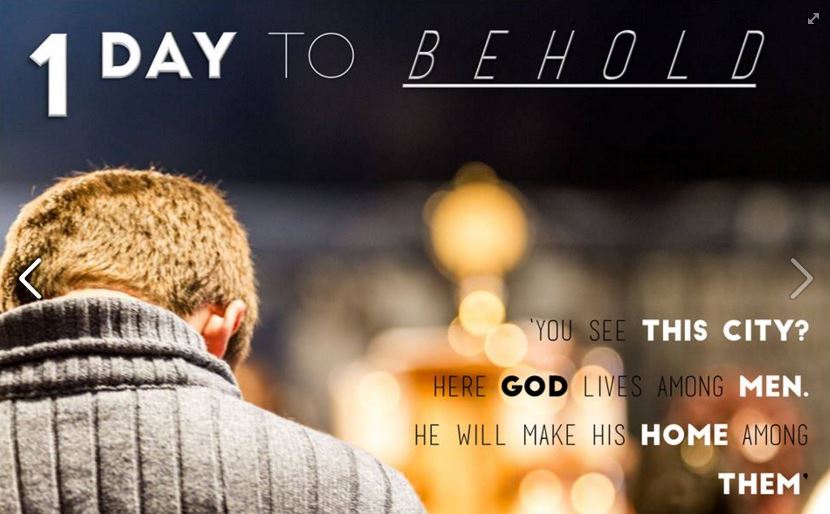 This year's Youth 2000 retreat takes place from December 29 to January 1 at Maria Fidelis Lower School, North Gower Street, Euston, London NW1 2HR.
This testimony comes from Emma Sisk:
This year I brought in 2015 in a new way. I was in London when the clock struck midnight and fireworks and cheers echoed in the air. I wasn't celebrating the way I usually did. I was in the middle of Holy Mass.

Every year Youth 2000 organise a New Year retreat for young people between 16 and 35 which is attended by hundreds of young people across the UK. Last year I was able to go to the four-day retreat. It was brilliant to be able to start this year in the presence of God and surrounded by so many others who also cherish the gift of faith.

Our days were filled with engaging talks, lively Christian music, workshops, discussions, powerful prayer time and evening entertainment. The retreat was jam-packed with talks that are suitable for young people who were attending their fist retreat and those who are trying to live out their Catholic faith in everyday life. Both lay-people, priests and religious brothers and sisters offer insight and encouragement speaking in a real, down-to-earth way which young people enjoy and can easily relate to.

There is Mass on the first evening and the rosary as well as a short talk on who Jesus is. People arrive from 5.00pm and more and more people come each day until the closing Mass on the last day. There is always a theme for the retreat weekend from scripture. This year's theme is "Behold, I make all things new" from the Book of Revelation.

Youth 2000 promotes the essentials of the Catholic faith, with a special focus on Holy Mass, Eucharistic Adoration, confession, scripture and devotion to Our Lady. This is all done in a way that is interesting and relevant to young people today. A healing and reconciliation service is held on one of the evenings and everyone is offered the opportunity to receive the sacrament of confession.

My highlight of the retreat was midnight Mass on New Year's Eve and being able to begin this year with God. It's so important that we make time for God and to give Him the chance to touch our hearts and speak to us.

Through Youth 2000 I got to see the Catholic Church in a new light when during a retreat I got to experience the merciful and healing love of God. After this encounter my life was changed.

It's also really uplifting to be surrounded by other people who are trying to grow and deepen their faith and understanding of Church teaching. I drew so much strength from those around me who shared openly and honestly about their journey with the Lord and the challenge of being a young Catholic in today's world.

What attracts me to Youth 2000 retreats is the way the faith is presented. They draw young people into a personal relationship with Jesus Christ. The retreats are about helping people feel the depth of God's love for them and that means most people leave with changed hearts and closer to God.

During these weekends we are constantly in the true presence of Jesus in the Blessed Sacrament, which is exposed throughout the whole weekend.  This is really important because it's only by spending time with Jesus and being in His presence that we come to understand and experience His love.

Once again Youth 2000 is offering young people the opportunity to spend time with God this New Year. It's an incredible opportunity to open our hearts and allow Him to strengthen us so we can begin the journey that leads us to heaven.
Christina Lynas, managing director of Youth 2000 UK said:
"At this time of year, most of us are caught up in thinking about what gifts we can get our loved ones. But the greatest gift we can give is the gift of encountering Jesus. PLEASE invite a young person you know to join us for this New Year's Retreat, it is an invitation that can change their lives for ever!"
This year's Youth 2000 retreat takes place from December 29 to January 1 at Maria Fidelis Lower School, North Gower Street, Euston, London NW1 2HR.
If you cannot make the whole retreat then take a look at the programme link here and see which parts you are free to come for.
For more information visit: www.youth2000.org or call 02072212124 or email info@youth2000.org
DETAILS ARE COPIED BELOW:
When? 29th Dec 2015 5pm – 1st Jan 2016

What? A weekend retreat, including engaging talks, lively music, workshops, discussions, powerful prayer times, evening entertainment and loads more. Details of the daily programme will be out soon!

Programme

Where? 

Maria Fidelis Lower School 

North Gower Street

Euston

London NW1 2HR.

The school hall will be transformed by the presence of Jesus on the burning bush and the classrooms will become our sleeping dorms for the weekend.

Who's it for? Youth 2000 events are primarily for 16-35 year olds. If you are in this age range and looking for answers to the big questions in life, then this retreat is for you!

Cost: £80 per person. However we run on a donation-only policy, so if you cannot pay the full amount we ask you to give what you can, but not to let the money stop you coming. If you can give more, this will help towards a place for someone else.

Timetable: CLICK HERE

Workshops: CLICK HERE

AGE 16-17 BOOKING FORM: CLICK HERE

UNDER 16 BOOKING FORM: CLICK HERE

What to bring:

Roll mat 

Sleeping bag

Pillow & Blanket

Ear Plugs

Towel & Wash-kit

Cash for Tuck Shop & Merchandise

Torch

Notebook & Pen

Bible & Rosaries (If you have them.)
Tags: New Year, retreat, Youth 2000