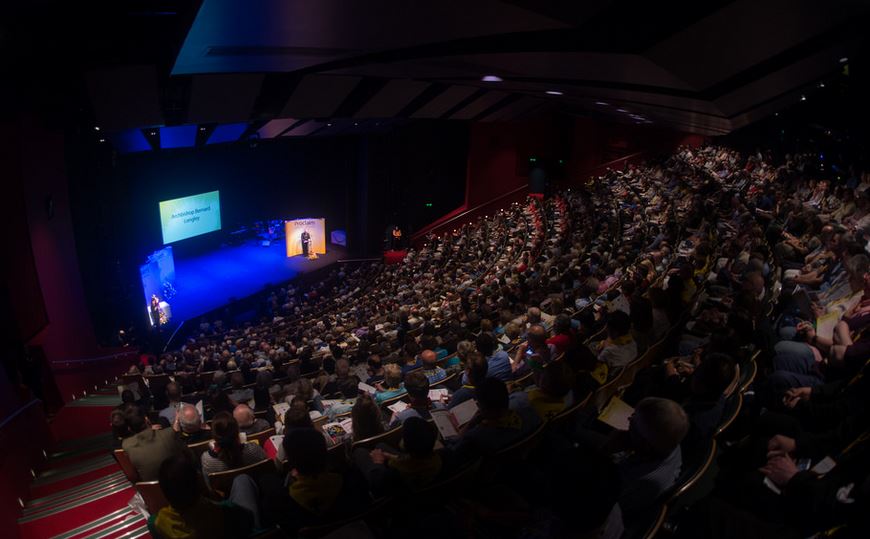 Pope Francis sent a special message to around 900 attendees, representing Catholic parishes from across England and Wales, at a 'once in a generation' national Catholic evangelisation conference in Birmingham at the weekend.
The message from the Holy Father was read out at the beginning of the event: Pope Francis 'assures all of those present of his spiritual closeness and prayers as they reflect on the call to be missionary disciples. Your assembly is an important occasion, not only to reflect on programmes of evangelization, but to rekindle within all the faithful the love and joy which flows from personally encountering the Lord Jesus. His Holiness encourages all gathered to open anew their hearts to Christ, so that they in turn may revitalise their parishes, forming each to be "a community of communities, a sanctuary where the thirsty come to drink in the midst of their journey, and a centre of constant missionary outreach" (Evangelii Gaudium 28).'
All five Catholic archbishops of England and Wales were in attendance at the Proclaim '15 conference, along with a large group of bishops and ecumenical guests, which took place in The Repertory Theatre in the city centre. The theme of the event was Building Missionary Parishes and included keynotes delivered by: Cardinal Vincent Nichols (Westminster); Archbishop Bernard Longley (Birmingham), a member of Pope Francis' Rome-based Council for the Promoting of the New Evangelisation; Rev Nicky Gumbel, one of the pioneers of the Alpha Course and movement; Michelle Moran, President of the International Catholic Charismatic Renewal Services and a member of The Vatican's Pontifical Council for the Laity; Archbishop George Stack of Cardiff. Eleven workshop leaders also delivered a series of practical and 'how to'' focussed workshops to equip attendees to return to their local churches to reach out to people respectfully, joyfully and confidently, in a way that responds to the needs of local people.
Cardinal Vincent Nichols, giving an enthusiastic and wide-ranging keynote speech, called on delegates to be guided by the Pope's invitation to proclaim Mercy: 'The question before us today is straightforward: How is the Church measuring up to the Master's command: "Go, therefore to all nations. Baptise them in the name of the Father and of the Son and of the Holy Spirit and teach them to observe all the commands I gave you (Mt 28.19)?" How are we measuring up?… This Conference Proclaim '15 is a point in an important journey. It is not a short sprint. It is a long haul. Helping our parishes to become missionary parishes, communities of evangelisation, rooted in the mystery of God and sharing in the mission of Jesus himself, is a long process…. But the next step, what might it be? My suggestion. The Pope has asked for a Jubilee Year of Mercy, beginning in December. Let that guide our choice of what to do next. Let that theme guide us in the steps we decide to take.'
The Proclaim conference is the highlight of a 12-month national bishops' project to provide new materials and impetus to support Catholic parishes in their mission. Bishop Nicholas Hudson, the national lead for Saturday's event, said: 'It was a watershed moment on Saturday with so many ideas and practical wisdom shared. Our attention now turns to the legacy. A number of dioceses have already planned Proclaim days for parishes this autumn and on Home Mission Sunday (20 September), a new legacy document will be published including a collation of the films and audio recordings made at Saturday's event, including downloadable summary sheets to support parishes to take practical steps in service of outreach. A specific hope is that local evangelisation teams will be formed to take forward this vital and life-giving work.
Initial feedback from those who attended Saturday's event includes: '…it was a day in a lifetime, highly stimulating and humbling too.' Another shared: 'The talks, the workshops, the music were all marvellous, the hosts and hostesses were very helpful and joyful, the prayer and the mass were very-very blessed.' Finally: 'What a success – we thoroughly enjoyed the conference… Your choice of speaker, range of topics and the professionalism of the presentation on the whole was very impressive.
The full text of the Pope's message, Cardinal Nichols' address and additional materials are available at: www.catholicnews.org.uk/proclaim15
[SOURCE: Proclaim '15]
For more information and resources see the PROCLAIM '15 Site here
Tags: evangelisation, Proclaim '15