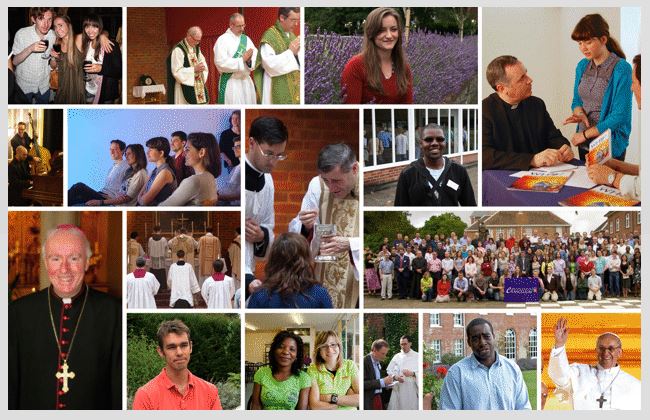 A few random summer events for young Catholics in the UK. Please add any other ideas into the comments below.
EVANGELIUM CONFERENCE, 30 July to 2 August
Set in the beautiful grounds of the Oratory School in Reading, the acclaimed Evangelium Conference combines a unique weekend break with the opportunity to learn more about the Catholic faith, assisting participants to live, share, and defend the faith today. Talks and workshops are combined with daily Mass, eucharistic adoration, and social events. The conference is intended especially for young Catholics age 18 – 35.

GUEST SPEAKERS

Professor Roger Scruton FBA, FRSL
Professor Thomas Pink (Philosophy, Kings College London) – Church and State

OTHER PLENARY SPEAKERS

Dr Stephen Bullivant (Senior Lecturer in Theology and Ethics, St Mary's University, England)
Fr Dylan James – Virtue Ethics – Understanding Catholic Morality (Friday)
Fr Lawrence Lew OP – Virtues for the Virtuous – Social Media, Spirituality and Evangelisation
Joanna Bogle – The Theology of the Body (Saturday)
Fr Stephen Langridge – Your Spiritual Life on the Way to Vocation
YOUTH 2000 SUMMER FESTIVAL: The Promised Land. 27 to 31 August
What?  A 5 day Prayer Festival, packed with dynamic talks, live-band worship, powerful prayer times, fun social activities, creative workshops, in-depth discussions, evening entertainment and loads more. With top speakers from the USA and all over the UK. Look out for the programme coming soon!  

Where? The Roman Catholic National Shrine of Our Lady, Walsingham, Norfolk, NR22 6AL
In this ancient and holy place we come with our Big Top and tents to create a great festival atmosphere. 

Who's it for? Youth 2000 events are primarily for 16-35 year olds. If you are in this age range and looking for answers to the big questions in life, then this retreat is for you!

Families are also most welcome to join us for this festival, with activities for children aged 5-15 each day. This is a great chance for a holy holiday together. 

If you are 35+ and keen to come, please register in advance as a volunteer. You will not only get to experience the incredible atmosphere of this festival but also live out our Christian calling to serve. Youth 2000 needs over 100 volunteers for this festival, so please get in touch: info@youth2000.org WE NEED YOU!!
FAITH SUMMER SESSION 3 to 7 August
Set in the beautiful grounds of Woldingham School, Surrey, the Faith Summer Session is five days of talks on the faith for 16-35 year olds which take place along with daily Mass, opportunities for discussion and social time. The Summer Session gives young Catholics a chance to ask questions about their faith and meet other young Catholics in an informal and prayerful atmosphere.

The timetable is balanced to include opportunities for prayer, sporting and social activities; and a deepening of one's relationship with God is enabled by opportunities for Confession, daily adoration of the Blessed Sacrament and the celebration of the Divine Office. There is a licensed bar on the premises (for over 18s only) and the programme of evening entertainments includes a Quiz Night and the traditional Ceilidh (Scottish dancing).

All accommodation and meals are provided on-site and specific dietary requirements are catered for. A tuck-shop is also available for the purchasing of sweets and snacks.
TRANSFIGURED IN CHRIST: WORTH ABBEY 26 to 30 August
Summer Retreat for Young Adults @ Worth Abbey Benedictine Monastery

"Is there anyone here who yearns for life?" Rule of St Benedict

Our theme for this year will be Friendship with Christ, in Christ, and for Christ: the call to a deep communion with God – exploring ways to delve deeper into prayer and the spiritual life – and the call to a deep communion with each other and for others.

We will explore the vision of community and friendship found in Scripture, in the life of Jesus and his disciples, and in the monastic tradition, finding wisdom and practical tools for our own life of communion and discipleship.

The retreat will be structured around participation in the monastic rhythm of prayer, daily Mass, and space for reflection in the beautiful surroundings of Worth Abbey.

With talks from the monks of Worth Abbey and members of The Wellspring Community.

Talks – Prayer & Reflection Space – Mass and Divine Office – Friendship & Enjoying the Summer!

Cost only £120 (student/unwaged) and £150 (waged)

To book please or for more information please contact admin@wellspringbrighton.org.uk or TOC@worthabbey.net
JUVENTUTEM SOCIAL WEEKEND, 5 to 6 September – see the poster below.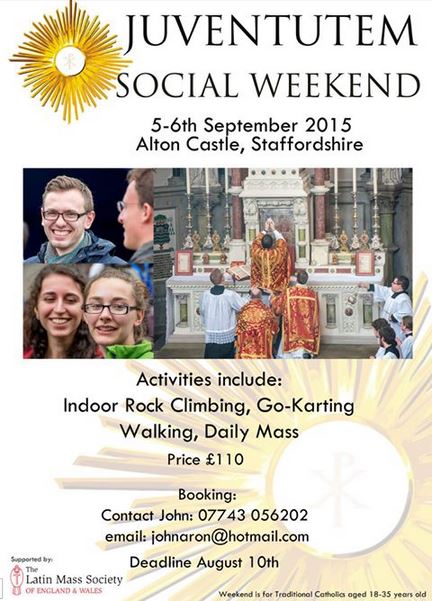 Tags: Catholic events, retreats, young adults