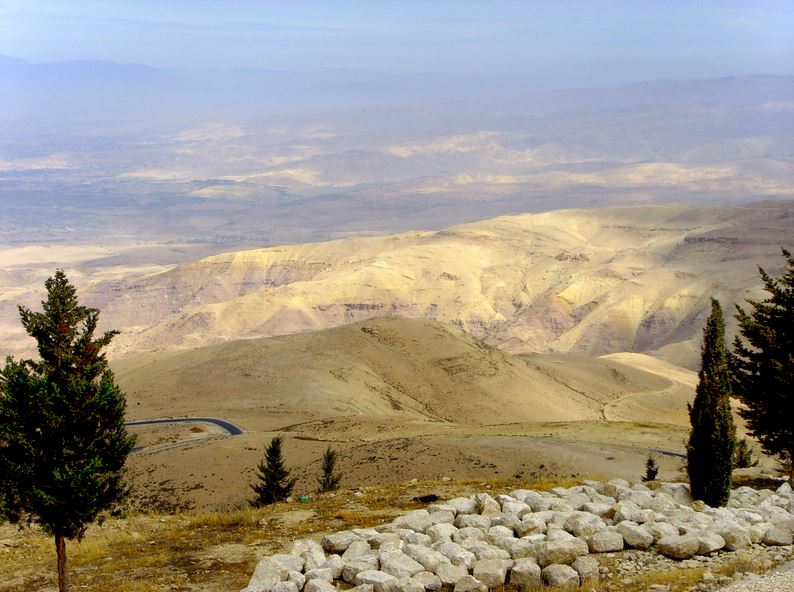 I want you to imagine that you are on the top of Mount Nebo. This is where Moses is standing in the First Reading of the Mass today, surveying the Land that has been promised to his people. And it's where Claire and Firmino stood together just a few weeks ago when they were visiting the Holy Land.
The joy of being at the very top of a mountain is that you can look both ways: you can look back to see the path you have travelled on; and you can look forward to see the landscape ahead.
Part of this wedding day is looking back with gratitude. It's calling to mind all the people that have been part of your lives, all the different experiences that have led you to this moment, and being able to give thanks for them: the joys, the blessings, even the difficulties and the apparent dead ends. Today, from this vantage point on top of the mountain, you can see that each moment has played its part in bringing you to each other, and bringing you to this day. We thank God today for his loving kindness to you both, over all the years that have led up to this moment.
And you are looking forward as well, casting your eyes over the landscape ahead of you, over "the land of promise" as it is called in the Scriptures today.
You can't see the details. It's not at all clear which road you will take; what you need for the road; or even if there is a road to travel on. But that is not a worry. Because your commitment in marriage today is simply to make this journey together. It's not to predict every stage of the journey; it's not to work out what you will do or how you will cope. It's simply to promise that you will make this journey together; that you will work it out – one day at a time – together.
This is no more than you say in the wedding rite. You promise "to have and to hold". These are deceptively simple words, that we don't often think about. It's a commitment not just to have, but to hold; to hold onto, and to keep holding; to hold the other for better, for worse; for richer, for poorer; in sickness and in health. And to do all this with the support of friends and family; of all of us who witness your wedding today; and with the love and prayers of those who have died as much as those who are still alive.
Who is the minister of this sacrament of marriage today? It's not the priest; it's the husband and wife, the two spouses, who minister the sacrament to each other. We are here – priests, religious sisters, lay people – as witnesses to the celebration of the sacrament.
Let me just contrast this with another sacrament, the sacrament of baptism, which is in my mind because we are still celebrating Easter Week.
One of our students, Sohyun from South Korea, was baptised at the Easter Vigil at Newman House Catholic Chaplaincy last Saturday evening. We spent most of Saturday afternoon constructing a huge hexagonal baptismal font for the celebration, just like the marble fonts you see in early Romanesque churches. (It was actually a very carefully disguised paddling pool, but please don't tell anyone that).
Sohyun knelt in the pool, with her godmother's hand on her shoulder, and I baptised her with water poured from an enormous jug, utterly drenching her from head to toe. Then she stood to receive her new baptismal garment, and the baptismal candle; and after some time to change she processed back into the church now clothed in this glorious baptismal robe.
What struck me was her humility: what it takes to say Yes, with a child-like faith; to kneel before the whole congregation like this, very exposed, very vulnerable, and to allow oneself to be ministered to in this way.
In the sacrament of marriage, by contrast, it is not the priest but the spouses who minister to each other, and who allow themselves to receive the ministry of the other. This is true today, the day of your wedding, and every day of your married life.
You kneel before each other, like Jesus at the Last Supper, and wash the feet of your spouse. You carry your cross, like Jesus on Good Friday, as an act of love and sacrifice for your spouse. You bring the healing waters of the Holy Spirit to each other, just as Jesus breathed the Holy Spirit upon the Apostles on the first Sunday, the Day of Resurrection, just as the priest pours the waters of baptism over the new Christian.
Think of all the biblical and theological significance of water. Water brings refreshment and joy – and you must refresh each other. Water brings healing – and you can bring healing and balm when there are wounds to be soothed and bound up. Water purifies and cleanses – and you must bring forgiveness and peace to each other when it is needed. Water brings nourishment and sustenance – and you must slacken the thirst of your spouse, whether it is spiritual or emotional or even physical.
Now I'm not sure whether I should go on to mention this, but water is also used to put out fires! And sometimes, perhaps, you might need to throw some water onto any tiny fires of anger or disagreement or very minor marital disputes that might possibly arise over the next few years…
Yes, you are called to love each other; it's so obvious it almost goes without saying. But in the Christian understanding of marriage you are called to minister to each other, to serve each other in whatever will build up the other, and in whatever way will build up your marriage and your family.
I feel very privileged to have been with Claire and Firmino on the very evening when they met for the first time; many of you in this congregation were there too. This was the Youth 2000 Fundraising Ball last summer in a plush hotel in central London. I've even got a photo I took of the group on my table; and way, way off in the very top left-hand corner, about four tables away, quite by accident, there is a glimpse of Claire and Firmino talking like two love birds. I only discovered this weeks later.
My one memory is walking past Claire; her introducing me to Firmino; and us making friendly small talk for a few moments. Claire had this look on her face that was somewhere between manic and bedazzled and Amazonian hunter-warrior and Hollywood swoon. Without saying a single word, she managed to communicate to me the following coded message: "Hi Fr Stephen; say hello to Firmino; be nice; and then leave very quickly so that his undivided attention will be fixed on me and not on you". So being a sensitive priest, I swiftly departed after about ten seconds of inane conversation.
That first evening many of us witnessed what in technical terms is called the "falling in love" moment.
It's a very important moment. But it's not enough.
Today, in the marriage vows, we are witnessing the "standing in love" moment, when Claire and Firmino stand before each other, before us, before the altar, and before God. And by standing and making these vows they are saying Yes to the other person; Yes to the God who gives this person; Yes to the gift of new life that they hope for; Yes to the unknown future of their marriage. It's like the Yes of Our Lady in the Gospel today, when the Angel Gabriel came to her at the Annunciation. And it's like the Yes that the Sisters here, the Poor Clares, make on the day of their Final Profession.
Your Yes, Claire and Firmino, is confirmed by God's Yes. That's what makes marriage a sacrament for two Christians: that God's promise is added to your promise; that Christ's love sustains your own love for each other.
And when we finish here in the church in just a few minutes time, indeed from the moment when you turn around and walk down the aisle together, the "standing in love" of your marriage vows will be turned into the "walking in love" of your married life.
To fall in love is relatively easy.
The stand in love at the altar today takes great commitment, courage, trust and faith.
To walk in love over the coming months and years, to make this long and costly and beautiful journey together, is actually the deepest meaning of marriage. It is about your faithfulness to each other and to God; and more than this, it is about God's faithfulness to you.
[The homily given at the marriage of Claire and Firmino, 11 April 2015]