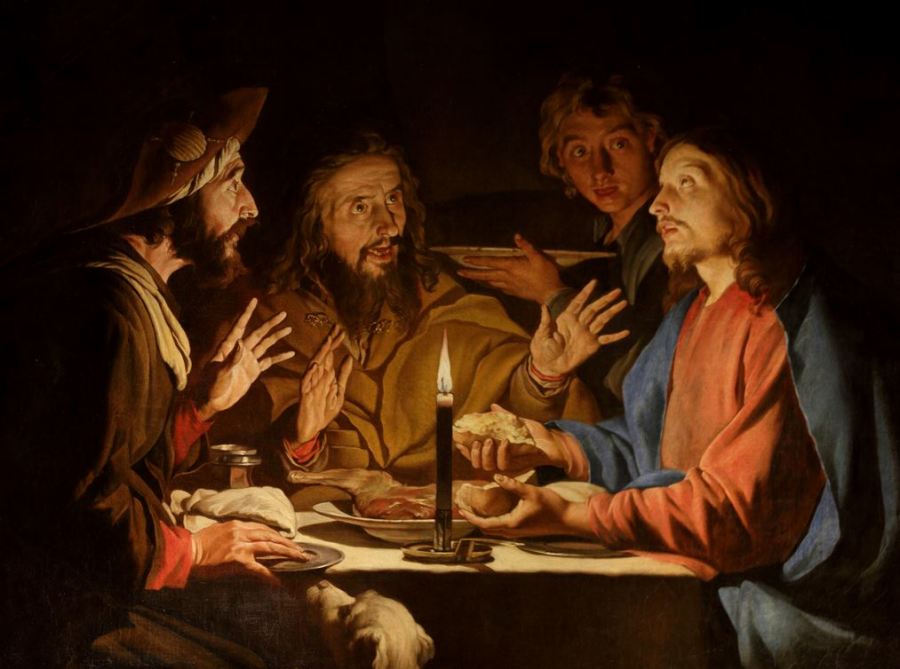 St Augustine loved to puzzle over the Emmaeus story. Why did the disciples not recognise Jesus when he was explaining the Scriptures to them? Why did he pretend to carry on walking?
He went in to them, he became their hospes. He hadn't been recognised all along the road,  but now he's recognised in the breaking of bread. (Sermon 236.3).
I left the word hospes in Latin on purpose. It is the origin, of course, of our 'hospitality', and it means both guest and stranger. Augustine is well aware that the same word is used in Matthew's parable of the sheep and goats: 'I was a stranger' – or a 'guest' – 'and you welcomed me' (Matthew Chapter 25). And so Augustine continues his sermon:
Learn to welcome hospites, and there you can recognise Christ.
In other words, it is not enough just to read the Scriptures. If you want to know Christ, you have to follow that by welcoming him as your stranger/guest. And how do you do that? By remembering that in Matthew's Gospel Jesus explicitly identified himself with strangers who were in need: the sick, the hungry, the thirsty, the naked, the prisoner. They are the sort of guests whom we need most of all to welcome. Then we will be able to recognise Christ.
I was down in London over the weekend talking about Augustine's ideas on hospitality. So I decided I'd better practice what I preached and welcome some strangers. I went along on Saturday afternoon to the Carmelite Church at 41 Kensington Church Street in Kensington to meet a group of the St Egidio community. (If you don't know about them, you should: www.santegidio.org and https://www.facebook.com/santegidiolondon.)
The group was young, lively, international and very friendly. We made soup, tea and sandwiches, and then went out onto  Kensington High Street to find their homeless friends and share with them some nourishment and conversation. As Augustine pointed out all those centuries ago, when you think you are blessing the poor, it's more likely that you are being blessed yourself. At any rate, it was a great couple of hours, with a great bunch of people, including one lad on the streets who was having a birthday. One of the organisers told me that this interlude each week gave her the energy to return to her day-job in an office.
I am rarely in London myself, but the St Egidio group meet in the same place each Saturday afternoon at 4.30. After their visit to the streets, they return to the Church to sing Evening Prayer. (If you don't know their music, it's lovely – a distinctive style a little like Taizé.) They are looking for more volunteers so they can extend their mission of befriending the homeless. Interested? Then contact cse.london@gmail.com.
One of their members asked me to share this extra invitation as well:
We will be celebrating St. Egidio's birthday on 11th February. Many of our friends from other communities (both from Rome and Antwerp) will be coming to celebrate with us. We will have a prayer in the church and then a refreshment in the basement (Our Lady of Mount Carmel and St Simon Stock, 41 Kensington Church Street, London W8 4BB). For anyone who would like to come, the invitation is at 7:30pm on Wednesday, 11th February. They can confirm their attendance by writing to cse.london@gmail.com