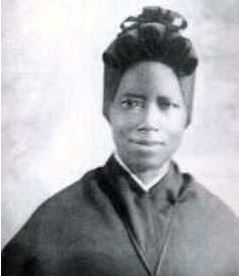 Slavery would have been familiar to Job. It's not surprising, then, that he uses it as a vivid image of all that brings humans beings to their knees and demeans them. Job asks,
Is not man's life nothing more than pressed service, his time no better than hired drudgery? Like the slave, sighing for shade.
The temptation is to imagine slavery as an economic, moral and social sickness that has all but been eradicated, a thing of the past. But that is not the case, the pathological master and slave gene persists and has simply mutated into new forms. Modern forms of slavery have gone underground where they are less visible, less easy to detect, but no less dehumanising. The cry of Job echoes in our own age and society.
The United Nations estimates that some 2.4 million people are trafficked at any one time and that their exploitation generates some 32 billion dollars in annual profits for their gangland masters. The Global Slavery Index estimates that nearly 30 million people world-wide are living in slave-like conditions.
Let me be honest with you: a couple of months ago, my knowledge of modern slavery was based on few newspaper column inches and catching the tail end of a documentary. That was pretty much it. Ignorance protected me from any moral obligations. Then, on January 1st something changed. Brentwood Cathedral, where I live and work, chose the Medaille Trust as the charity we would support in 2015 (see their website here). I had never heard of The Medaille Trust. A visit to its website revealed that it gave practical support and assistance to men, women and children in this country who found themselves caught up in the modern slave trade.
But statistics and websites were not enough and I asked if someone from the Medaille Trust might meet with me. A couple of days later a young woman, laden with boxes of leaflets and magazines, turned up at the door of Clergy House. Her name was Charlotte. She was animated, with real fire in her belly. Yes, there was the trafficking of women and young girls for the sex industry, she told me. But there was also the trafficking of men and children into hard labour jobs in the textile, agriculture and fishing industries. And don't forget those cleaners, cooks and nannies who can find themselves being treated as slaves by their wealthy employers. What they all share in common is that they are removed from their homes, their countries and transported to an alien culture, where they are isolated and their mother tongue is silenced.
And as Charlotte spoke, with such passion and moral indignation, an image of  a lynching from the film, 12 Years a Slave, came into my mind. The slave, Solomon Northrup, is hanging from a cypress tree in a backyard. His throat is stretched, his breath coming in choking clucks, his tiptoes just making contact with the mud underfoot. Around this barbarism, people get on with their daily, domestic activities. Perhaps their moral sense had become dulled by such habitual acts of cruelty or they had preferred not to notice or they were simply afraid?
We must notice. Our moral sense must be alert to the sufferings of our brothers and sisters. And it is for this reason that the Church has asked us to make this a day of prayer for survivors and victims of human trafficking. It has chosen January 8th to do this on because this is the feast day of St Josephine Bakhita (see the photograph above). In 1877, aged nine years old, she was kidnapped by slave traders and for the next twelve years she was sold three more times in the slave markets of Sudan. Her life was one of physical, verbal and emotional abuse. When she died in 1947, she bore the 144 physical scars received as a slave. The trauma of her childhood abduction caused her to forget her own name. She was given the name Bakhita, the Arabic for "lucky".
It was providence, not luck, that an Italian merchant bought her and took her to Italy in 1882. Here, she came to know a new master. A master who actually loved her and wanted her to flourish as a human being. A master who wanted her to be his child. That master was Jesus Christ.
Pope Francis has called modern forms of slavery "an open wound on the body of contemporary society, a scourge upon the body of Christ." This open wound needs healing. And how we are to begin this process of healing is found in today's Gospel. They brought to him all who were sick and those who were possessed by devils.
Christ is the healer, a healing that is not cosmetic or superficial but a healing that transforms us and our world from within. And we all need that healing.
Christ does make the blind see. He heals the cataracts of indifference so that we have the sight to recognise those who are enslaved around us. He gives us the sight to penetrate the darkest, most hidden expressions of slavery so that we might bring our brothers and sisters out into the light.
Those, like myself, who were deaf to the cries of the suffering are now given hearing that is canine. We can hear every whimper and moan. We have no excuse but to bring our brothers and sisters to the one who says, "I no longer call you servants…I call you friends, for everything I learned from my Father, I have made known to you."
The manacles of slavery are hammered loose by the love of Christ, calling us back to the fullness of life, offering us the possibility of a new society based on friendship with God and each other, an anticipation of what we will, one day, know fully when we share in God's life.
The open wound of slavery is cauterised by Christ's gentleness. The scourge is kissed clean.
Tongues are loosened. Those who have remained silent on this issue, must now speak. Those who have been slaves are given a grammar of hope.
The slaves of human masters, now have a new master in the living God, the God of life and hope and justice.
Those who could not remember their names, whose identities were robbed from them, now know that they are free men and women in Jesus Christ.
Tags: Josephine Bakhita, modern slavery, slavery, trafficking