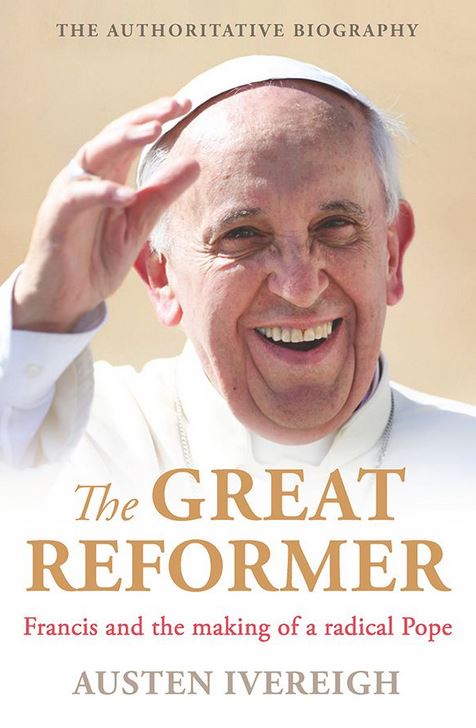 I've written a review of Austen Ivereigh's new biography of Pope Francis at the Quadrapheme website. You can read the full review here; and see the first few paragraphs copied below.
There is, in Buenos Aires, a "papal tour" bus that takes visitors around places linked to the life of Jorge Bergoglio, from those of his youth—his baptismal church, family home, and schools—to those of his adulthood: a seminary where he recuperated after his life was saved aged 21, and the cathedral seat of once-Archbishop Bergoglio.

Austen Ivereigh is well-placed to write The Great Reformer (Henry Holt and Co. 25 November 2014), a literary papal tour of the life of Pope Francis. Ivereigh was once a Jesuit, as was the Pope, and he knows Francis's Argentina intimately: his Oxford DPhil was on Catholicism and politics in Argentina, particularly between 1930 and 1960. They share a common concern for evangelisation, too. Francis's first encyclical,Evangelii Gaudium, focuses on the "proclamation of the Gospel in today's world". Ivereigh is a career journalist who was press secretary to a cardinal and co-founder of Catholic Voices (through which I have come to know him).

Moreover, putting these strands together, the biographer shares his subject's passions, for instance over the plight of immigrants. Bergoglio was the son of Italian migrants whose parents set sail for prosperity in the "land of silver" when clouds were gathering over Europe in the late 1920s. The book duly starts with a description of the newly-elected Pope's first journey outside of Rome, to the Mediterranean island of Lampedusa, the tragic crossroads currently at the centre of a refugee crisis where many refugees have drowned while attempting to cross the sea on packed, decrepit boats run by human traffickers.

Francis, in his visit, "wept for the dead and made migration a pro-life issue" writes Ivereigh. "Maybe they reminded him of the time many years before he was born when five hundred passengers, almost all in steerage class, drowned off the northeast coast of Brazil."

All this makes for a very sympathetic biography. In the main, this is not in the least bit troubling: the sympathy brings out Bergoglio's decency, without failing to acknowledge that a man who was polite and pious (he was at one point nicknamed el santito, "the little saint") was also considered by many as "publicity-shy and aloof" and someone who scorned the middle classes.

Born into a middle-class family in the 1930s, Jorge was instilled with piety, particularly by his grandmother. He enjoyed reading and football as a child, and the later pleasures of dancing and courting. The sympathy brings out Bergoglio's decency, without failing to acknowledge that a man who was polite and pious was also considered by many as "publicity-shy and aloof" and someone who scorned the middle classes. His adolescent cultural formation took place against the backdrop of Colonel Peron's coup in 1943, which framed the rest of Argentina's short century. Peron wanted greater enfranchisement and a consumer democracy without fascist or communist overtones, and wound up delivering Argentine politics into a mix of periodic economic meltdown, junta-governed military oppression and the "dirty war" against political dissidents and suspected socialists that erupted in the 1970s.

Jorge entered the Jesuits in the mid 1950s, becoming a novice, priest, novice master, professor of theology and finally the regional Provincial Superior in short order. A constant refrain is that Francis has always been or sought to be a unifier of conflicting interests. He superintended the growth in the order in Argentina and was an active participant in the Jesuits' internal struggles in the flux that followed the Second Vatican Council, facing down priests from the radical left who sneered at the orthodoxy of Bergoglio's formation programmes ("sandals yes, books no"). (At one point, Bergoglio managed to get expelled from the Jesuit university in Buenos Aires, losing his teaching post and accommodation, precipitating an explosion of the Society into factionalism.)

Yet we know Bergoglio cannot be characterised as a bogeyman of the right. Ivereigh deals crisply and cleanly with the historical accusations that Bergoglio sold out his fellow Jesuits during the dirty war, and somehow aided the military dictatorship. The truth is Bergoglio, through a Jesuit network across Latin America, helped many hundreds escape torture and death; the accusations only resurfaced in 2005 in a dirty tricks campaign to destroy his chances of succeeding John Paul II.
Tags: Pope Francis, The Great Reformer