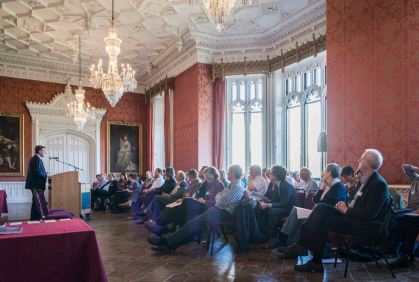 With Bills to legalise 'assisted dying' being considered in the Scottish Parliament and in Westminster, the Anscombe Bioethics Centre convened an international conference to consider the experience of euthanasia and assisted suicide in Belgium. The conference was co-sponsored by the Centre for Bioethics and Emerging Technologies, Twickenham, the Scottish Council on Human Bioethics, Edinburgh, and the Centre for Biomedical Ethics and Law, KU Leuven. It was held on Saturday 1 November 2014 at St Mary's University, Twickenham in the historic setting of the Waldegrave Drawing Room.
In 2002 Belgium legalised euthanasia under three key conditions. Broadly: the patient is competent at the time of the request, the request is voluntary and consistent, and the patient is: 'in a medically futile condition of constant and unbearable physical or mental suffering that cannot be alleviated resulting from a serious and incurable disorder caused by an illness or accident'. Originally the law was subject to a lower age limit but in 2014 the scope was extended to include children of any age, subject to various further conditions, for example that it only covered physical suffering.
In introducing the conference Professor David Albert Jones explained that the conference had been convened in order to learn from Belgium's experience the impact that such a law could have on healthcare and on wider society. Its aim was to 'look at diverse aspects in order to begin to get a sense of the whole'. Professor Jones quoted Wittgenstein, who observed that certainty rarely comes from single arguments, rather it is that 'light dawns gradually over the whole'.
A report from the conference on euthanasia and assisted dying in Belgium, is now available, along with three short video interviews on euthanasia for people 'tired of life', the impact of euthanasia in practice, and euthanasia in children. The videos are available on the Anscombe Centre multimedia page and YouTube channel.
Tags: Anscombe Centre, assisted suicide, bioethics, euthanasia