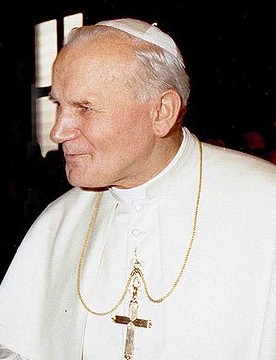 It is really exciting to be able to write about a man I greatly admired; and someone I had the privilege to see.
Karol Josef Wojtyla, known to the world as John Paul II since his election to the chair of St Peter in October 1978, was born in Wadowice, Poland, on May 18th 1920. The youngest of three children, his mother Emilia died in 1929. Then his eldest brother Edmund, a doctor, died in 1932, and his father a non-commissioned officer in the army died in 1941. A sister Olga had died before Karol was born.
As a young man Karol had a great love for the outdoors and for sports, he would climb mountains, ski, bike, swim, play soccer or volleyball and kayaking.
Upon graduation from secondary school he enrolled in Krakow's Jagiellonian University in 1938 and entered a school for drama.
The occupation of Poland by the Nazis closed the university in 1939 and the young Karol spent the next  four years working in a quarry and then in the Slovay chemical factory to earn a living and avoid be deported to Germany.
When the war ended Karol continued his studies in an "underground" seminary of Krakow as well as at the Jagiellonian university. He was ordained to the priesthood on November 1st 1946
Shortly afterwards he was sent to Rome where he worked under a French Dominican, Garrigou-Lagrange. He finished his doctorate in theology in 1948.
In the same year he returned to Poland where he served as parish priest to a number of churches in Krakow, and became chaplain to the university students.
In 1951 he took up his studies again in philosophy and theology, becoming a professor in moral theology and social ethics at the major seminary in Krakow.
Karol was appointed bishop of Ombi and auxiliary bishop of Krakow by Pope Pius XII in 1958. On January 13th 1964 he was appointed Archbishop of Krakow and then in 1967 he became a Cardinal.
Karol Wojtyla was elected Pope on 16th October 1978; a stunned world waited to greet the new pope, and he took the name John Paul II after his very short-lived predecessor.
John Paul exercised his papal ministry with real zeal. He travelled all over the world ministering to his flock. His love for young people brought him to establish World Youth Day.
He wrote many encyclicals and apostolic letters. He promulgated the new Catholic Catechism. He reformed the Eastern and Western codes of canon law and gave the world his teaching on the theology of the body. He also gave the world the feast of the Divine Mercy. And if that wasn't enough he wrote five books of his own.
After suffering for a number of years with Parkinson's disease he was called home to the Father on 2nd of April 2005 on the eve of the feast of Divine Mercy.
To help celebrate this feast day it might be fun to look up a traditional Polish meal on the internet and have a go at creating a lovely meal for you all to celebrate the life of St John Paul II.
Tags: Pope John Paul II