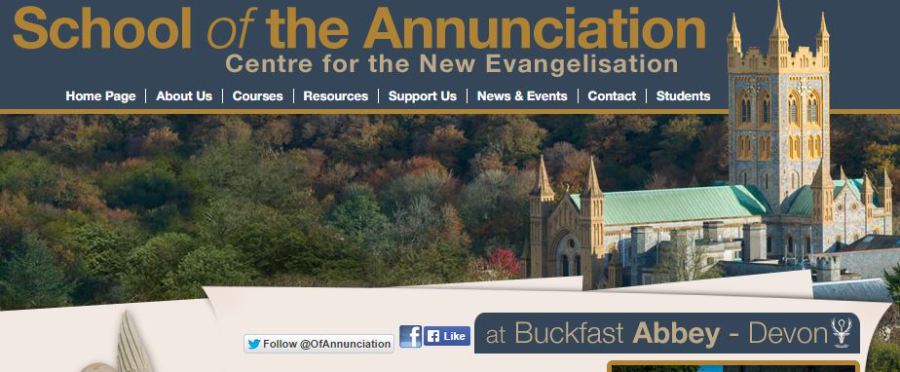 Catechist Foundations for the New Evangelisation: A formation Programme for catechists of today rooted in prayer in the Benedictine Tradition. Click here for further information.
This is a distance-learning course of 18 months duration, with 5 study days, 2 Lectio Divina days and 12 study units to complete. There are 2 centres of delivery: Ealing Abbey, London, and Buckfast Abbey, Devon.
In forming catechists for the third millennium, the last three Popes have made it clear that the context is now the New Evangelisation, a context markedly different from the previous century and needing new methods and new vigour to deliver the Good News of Jesus Christ, Son of God and Saviour, a message 'forever ancient and forever new'.
The School of the Annunciation, a centre for the New Evangelisation, is situated at Buckfast Abbey, Devon, with a satellite centre at Ealing Abbey.  The context of these two Benedictine monastic communities has prompted the development of the programme within the Benedictine Tradition as a spiritual home that is already nourishing the new evangelisation by its hospitality and daily rhythm of prayer in the liturgy of the hours.
This programme is developed and led by a strong catechetical team, steeped in the Church's catechetical documents especially the Catechism of the Catholic Church, and many priests will also be involved in lecturing.
THE MAIN UNITS ARE:
Sources of the Faith and Wells of Grace

Units 1 – 3: Scripture, Tradition & Liturgy = studied over 4 months

The Search for Happiness

Units 4 – 6:  Anthropology, Eschatology and Life in Christ = studied over 4 month

A Dogmatic Creed

Units 7-9: Trinity/Christology, Ecclesiology and Mariology = studied over 4

months

Catechesis and the New Evangelisation

Units 10- 12:  Introduction to NE, NE and Sacred Art, NE and the Media studied over 4 months

The Practice of Catechesis

Study day focussing on practical catechetical skills.
Assessment is through written exercises submitted for each unit. Basic computer, and especially Internet, skills are essential.
On successful completion of all the assessment and attendance requirements the participant gains a Catechist Foundation Course Certificate from the School of the Annunciation. Previous studies in similar subject areas and from comparable courses may be considered for exemptions.  For this, evidence of the assessment subjects and grades will be required.
Cost: 2014-15 – £345 per annum
Dates for 2014-2016 (Ealing Abbey)
22nd November 2014 – study day 1; units 1-3
28th March 2015 – study day 2; units 4-6
20th June 2015 – Lectio Divina day
19thSeptember 2015 – study day 3; practical catechetical assignments
14th November 2015 – study day 4; units 7 -9
March 2016 – study day 5; units 10-12
June 2016 – Lectio Divina day
Dates have not yet been confirmed for Buckfast Abbey.
Tags: catechesis, catechists, featured, formation