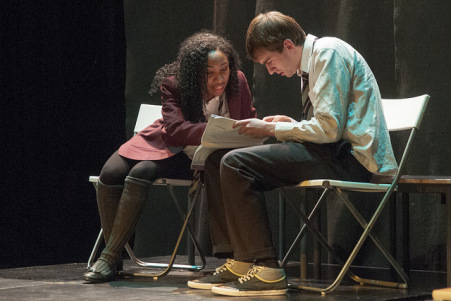 We hope this finds you well and that you have had a restful summer. Summer can be a great opportunity to be refreshed and reminded of what God is calling each of us to – that is, life to the full.
Here at Ten Ten, we are very excited about the year ahead and all the promise it holds. We continue in our mission to reach out to communities with stories that touch hearts and minds and that help individuals to discover God's personal love for them as they seek to live life to the full. Here are some of the projects we have lined up for the year ahead:
Primary Schools
This time next week, our two primary teams will be back on the road again, visiting schools in the North West and London areas. This tour continues until February 2015 when there will be a short break before we recruit new actors to start the tour again in April!
One of the core aspects of this resource is that we work with parents as well as children – as the first educators of their children, we put parents at the heart of the programme and help them to engage and grow in confidence as parents with themes such as self-giving, dignity, difficulties in relationships, prayer, friendship and family life.
This Is My Body
This week also sees the start of our 7-week nationwide tour of 'This Is My Body' – our powerful and profound new play about human trafficking. The autumn tour will culminate with a showcase performance at the well-renowned St James Theatre in Victoria during anti-slavery week in October. 
Sixth forms up and down the country have booked for their students to see 'This Is My Body' as a way to inspire them to action and prayer on this issue.  As well as visiting Sixth Forms with 'This Is My Body', a number of parishes have also booked performances of this play.  
We very much hope that you will be able to see the work either at one of these public performances or at the St James Theatre.  Over the coming days, we will send you these dates and invitations.
Sixth Form Induction
We have a team booked to deliver induction days for schools we work with regularly – these involve drama, team-building games, discussion, liturgy, testimony and help equip sixth form students for the responsibility of A-Levels and beyond in terms of their faith life, their studies, the wider world and their relationships.
Secondary Schools
Shortly, we will begin rehearsals and training for our next secondary schools tour which will start in November and continue until April. As with all our work, we address issues such as friendship, the internet, alcohol, sex, abortion, marriage, vocation, family life in a way that is true to real life while also faithful to Church teaching. We do this with a heart felt vision for young people to grow in their understanding of  how God is calling them to a rich and full life that will bring them joy. 
Parishes
From November onwards, we will be delivering our day of recollection to Confirmation groups throughout Westminster and Southwark dioceses – these days now have a reputation that precedes them and we continue to be struck by the impact the day has on teenagers across the London area as they explore the true nature of love and how this understanding of love impacts all their relationships from friendships to marriage and sexual intimacy.
All in all, we anticipate that we will work with over 100,000 people next year –  approximately 10% of the UK Catholic population which is a huge privilege and responsibility.  Your continued support makes a huge difference to what we can achieve.
We are also trying to increase the number of regular donors who give to Ten Ten.  If our campaign, Foundations for the Future, is a success it will really enable to build and develop our core structures for a long time to come.  If you have not read the document yet, please do at www.tententheatre.co.uk/foundations and pass it on to anyone you know might be interested. We have set ourselves a rather ambitious target of trying to get 450 new donors before the end of September!  If we did this, it would really help to give us a great foundation for the next few years.
As ever, we continue to keep you in our prayers and have offered Mass for your intentions this morning at our home base of Our Lady of Lourdes, New Southgate.
With our very best wishes for a 'full' year ahead!
God bless,
Martin, Clare, Anna and Lizzie
Tags: Ten Ten, Ten Ten Theatre