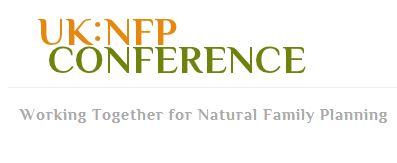 All NFP practitioners in the UK are warmly invited to attend the UK:NFP Conference.
Booking for the 2014 conference  in London, on 15 November 2014, is now open.
Natural Family Planning in the UK is delivered by a number of groups, working independently and providing a range of different methodologies and approaches.
This is beneficial in that it provides users with a range of choices and options; but it also makes it more difficult for practitioners to communicate the options, and to inform the public, medical staff and opinion formers about the benefits of Natural Family Planning.
Our first UK NFP conference was held in 2012, bringing together representatives of many of these organisations.  The impetus to continue meeting was clear, and the second event was in October 2013.
The conference is aimed at people actively involved in the field: teachers, researchers, promoters and those with a professional interest.
The 2014 conference
The keynote speaker is to be Professor Dr G Freundl, Principal Investigator of the Working Group "Natural Fertility" in the German Society of Gynaecological Endocrinology and Reproductive Health, and an author of many research papers in the field of NFP.
Date:  15 November 2014
Location: Vaughan House, 46 Francis St, Westminster, London SW1P 1QN
Agenda
10:15
Registration / Networking
11:00
Welcome to London
11:15
Colleen Norman
Emotional/Relationship benefits of NFP & promoting these
12:00
David Aldred
Website development for NFP Promoters / Organisations
12:30
Lunch
13:30
Prof. Dr. G. Freundl
NFP Technology and Gadgets – Some Thoughts
14:45
Tea
15:00
Break-out groups

Promoting Emotional/Relationship aspects of NFP
Website Development
NFP Research

15:50
Feedback from Break-out groups
16:15
'Where Next?' session
17:00
Conference Close
Tickets
Please check for details of available ticket types
Booking
Follow this link for the Booking Form.  
---
We will keep some record of past conferences on this site.