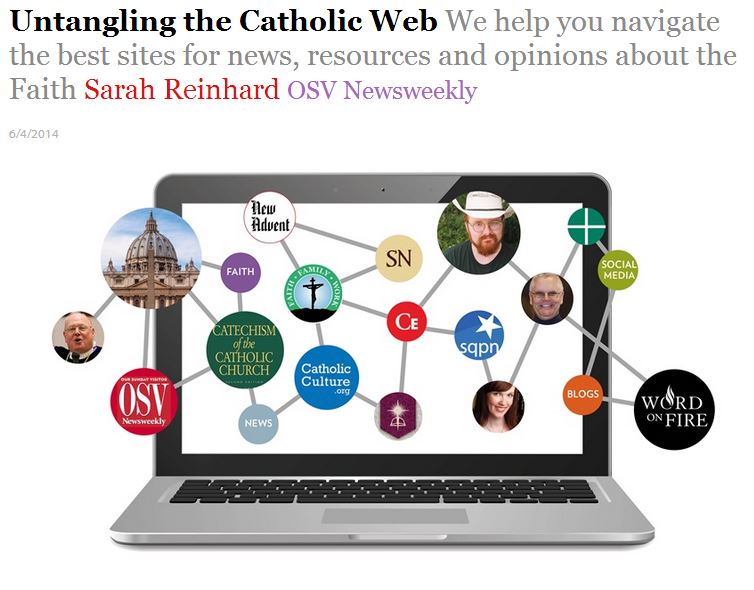 Sarah Reinhard lists and comments on the Catholic websites that she has found most helpful for her faith. She writes regularly at SnoringScholar.com and is the author of "A Catholic Mother's Companion to Pregnancy" (Ava Maria Press, $14.95) and "Catholic Family Fun" (Pauline Books and Media, $11.95).
Here is her introduction:
When I first discovered Catholic websites — a few years after converting — it was like a fire was ignited underneath me.

It didn't take me long after that to jump in with both hands on my keyboard. I started blogging and, not long after, I began contributing to other sites. I found myself devouring the wisdom and insight, the humor and sorrow, and, best of all, the window into other Catholics' lives. Thanks to the Catholic Internet, the fact that I literally live in the middle of a cornfield didn't mean I was the only Catholic around.

Thanks to the Catholic world online, I could find other Catholics who not only shared my state in life, but also my enthusiasm for the Faith. It became a special kind of community.

Chances are you're no stranger to the Internet and that you have some favorite Catholic sites, too. I've found, though, through my work both locally in our small parish — and through nationally speaking and writing — that many Catholics just don't know what's out there. The world of Catholic content on the Internet is an ocean, not a stream, and like the ocean, it has many hidden depths.

So let's dive in, shall we?
And you can click here to see her full list of recommended websites, under these headings: Indispensable; Opinion; Faith; Prayer; News; etc.
Tags: Catholic websites