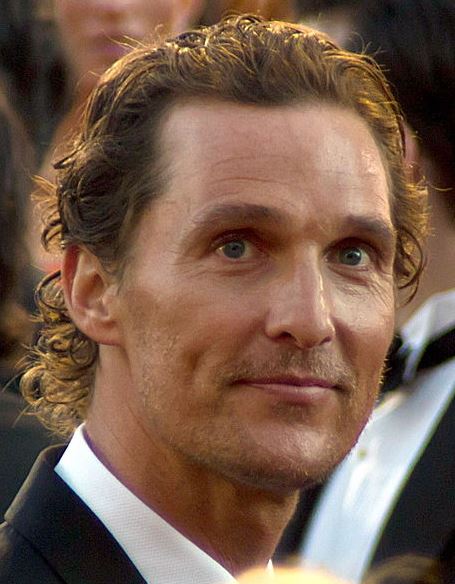 [Guest post by Katy Whisenant]
Seeing all the publicity surrounding Matthew McConaughey's Oscar has been a bit of a surreal experience, as not only did we grow up in the same small town near the Mexican border of Texas, but during my formative childhood years, the McConaugheys lived next door and were my family's closest friends.
I don't have many memories of Matthew except as his mother's "bump" and a fair- haired toddler, as by the time he was born his parents had moved, and I was a teenager.  However, his older brothers, and particularly his parents, Jim and Kay, loomed very large in my early life.  I still remember, as a primary schooler, the effort that I put into and the pride that I felt upon mastering the spelling of "McConaughey". I also recall the enormous weight of responsibility I felt on being put in charge of his middle brother Patrick as an infant, my first babysitting experience.
The oldest son Mike was a year above me in school and was something of an older brother figure; I certainly qualified for the annoying younger sister role. Jim once teased the both of us that I was the apple of Mike's eye, adding with a twinkle in his own, "rotten apple, that is".
There were humorous references to Irish Catholic backgrounds, and I suspect that both Jim and Kay came from such.  It all sounded very foreign and exotic to the ears of a Protestant child in South Texas.  I don't recall that Jim practiced any religion; however, Kay was an active member of the local Methodist church, and I sometimes attended their youth meetings with Mike, as young people in the local Episcopal church to which my family belonged were a bit thin on the ground.
Matthew's reference to his father in his acceptance speech brought back a flood of memories.  Jim was a man's man, not without flaws, but a generous man, whose influence wasn't limited to his own sons.
In the vacant lot behind their house, Jim had built a baseball field so that the Little League team which he coached could have a place to practice.  It became the centre of existence for the kids of the neighbourhood, and if by chance you ever see the American film The Sandlot, it could be the story of our childhood with the names changed to protect the innocent.
It was an age and a neighbourhood where fathers were very much seen as the protectors of their families, and mine and Jim once chased a peeping tom across that field and into the cemetery which lay behind it.  The chase culminated with my father clearing the hedge and pinning the culprit on the ground until the police arrived.  The neighbourhood was abuzz,  and we were extracting grass burrs from my father's skin for weeks!
Interestingly, my most abiding memory of Matthew's family involves another Oscar-winning performance and turned out to be life-changing for me.  I was in San Antonio, the nearest large city to our little town, with his mother Kay. I was about 10, and for some reason I cannot now recall, probably a doctor's appointment or shopping, Kay was acting in loco parentis.  We were at a shopping mall with some time on our hands, and she suggested we see a film.  I was intrigued at the idea, as my own parents weren't big film-goers.  She looked at the list of offerings and suggested we see A Man for All Seasons, which, in addition to being one of the great screenplays of all time, contains Paul Scofield's unmatchable performance as Sir Thomas More.
I didn't really understand the story, but I was mesmerised by the impeccable performances, the beautiful costumes, the intrigue, and the sense that something truly profound was happening.  At the end, when the screen went black, I was thunderstruck.  I don't remember that Kay and I discussed it much, but I was launched on a love of English history and a quest which eventually led me to the Catholic faith and to name one of my sons Thomas More.  Years later, with my husband and children, I was to make England my home.
I will always be grateful to Kay for taking me to that film, and for some reason, known only to God, whenever prayers for the dead are mentioned, among the first names to come to mind have always been those of Jim McConaughey, who later died of a heart attack, and his brother-in-law Phil, killed in a car crash several years before Matthew was born. Requiescant in pace.
Tags: faith, St Thomas More