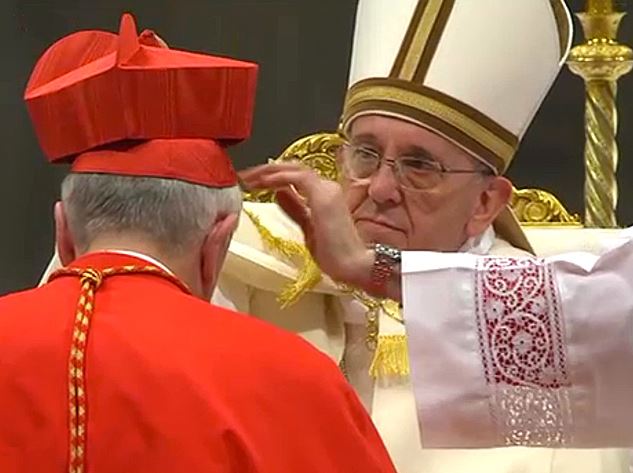 In his first ordinary public Consistory, Pope Francis elevated 19 of the Church's prelates to the rank of Cardinal – including Cardinal Vincent Nichols, President of the Catholic Bishops' Conference of England and Wales.
At the start of Saturday's celebration in St Peter's Basilica, the Holy Father Pope Francis warmly embraced his predecessor Benedict XVI, seated not far from the new Cardinals.
In his homily, Pope Francis urged the members of the College of Cardinals to allow themselves to be led by Jesus. He reminded them too, of the need to think "as God does" and not to be "tempted to think as men do."
"We are all too human, sinners," he said, calling them to find hope in the Cross and warning them that "whenever a worldly mentality predominates, the result is rivalry, jealousy, factions…"
He also said the "Church needs you, your cooperation, and even more your communion, communion with me and among yourselves."
The Pope called them too, to be peacemakers, and examples of courage and compassion "especially at this time of pain and suffering for so many countries throughout the world.
"

The Holy Father also used the occasion to express "our spiritual closeness to the ecclesial communities and to all Christians suffering from discrimination and persecution" and "to every man and woman suffering injustice on account of their religious convictions" and to ask for prayers for a peaceful end to world conflicts.
Cardinal Nichols received the red biretta and the cardinalatial ring from Pope Francis and was assigned the titular church of The Most Holy Redeemer and St Alphonsus in Rome.
[Source: Catholic News]
Tags: Cardinal Vincent Nichols