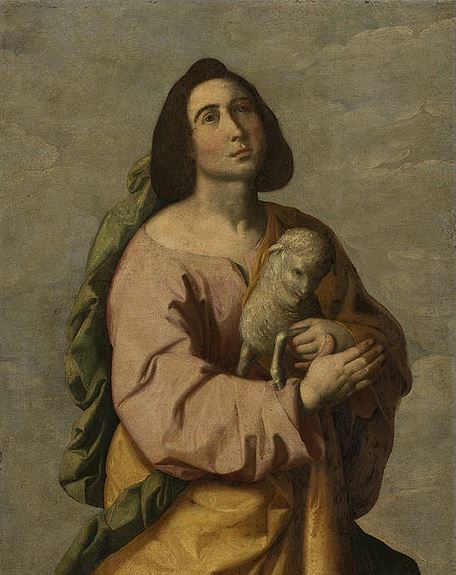 Agnes, a young Christian convert, is honored as one of the four great virgin martyrs of the Christian Church. She died for her faith in the early fourth century during the reign of Diocletian (284-305), the Roman emperor who ordered the last great persecution of Christians, starting in early 303. St. Agnes not only had no desire to marry, but was prepared to die for the sake of her faith and her virginity, as "the bride of Christ", rather than become the wife of the son of a Roman prefect. She was martyred when she was only 12 or 13
Her death made a profound impression and she became one of the most widely honoured of Roman martyrs and one of the most popular of Christian saints. Agnes is regarded as the patron saint of young women and the special protectress of bodily purity.
According to legend, Constantina, Constantine's eldest daughter by his first wife, Fausta, was afflicted with leprosy. She was reputedly cured of the disease after she had prayed as a pilgrim at Agnes's tomb
Agnes has been represented as a young woman bearing a palm leaf or sword and holding a lamb. The symbolism of the lamb is suggested both by her innocence and purity. The Latin word for "lamb" is agnus. The flower of St. Agnes is the Christmas Rose. Its delicate white blossoms represent this special patron of purity.
There are many old customs prevalent on the Eve of St. Agnes that concern rites in which the young village maidens discovered their future husbands. Dreams were also important on the Eve of St. Agnes.
If a maid went supperless to bed or fasted all day and ate only a salt-filled egg at night, she would certainly dream of her future husband. Another custom was to take a sprig of rosemary and a sprig of thyme, sprinkle each three times with water, and put one in each shoe. Then a shoe with its sprig was put on either side of her bed, while she repeated:
St. Agnes, that's to lovers kind,
Come, ease the trouble of my mind.
She then was certain to dream of her husband.
Yet another custom was for a young woman to take a row of pins, pull them out one by one, and stick them in her sleeve, while singing a Pater Noster (Our Father). Quite what this did remains to be seen!
Now I love this one, in fact I might bribe one of my daughters to go and do this just to see if it works. An unmarried woman is to go to a  different district from that in which she lives and spend the night there. Before going to bed, she must take her stocking from her right leg and knit it to the garter from the stocking on her left leg, singing as she did so. Then she was to lie on her back in bed with her hands under her head. She was assured that her future husband would appear to her in a dream and press a warm kiss upon her lips. Can  you just imagine!
However there is one tradition that appeals, that of the 'dumb cake'. This is a fruit loaf baked in silence and shared in silence with other young women; and if they manage to do it all in silence, they will see their husband in the mirror that night! To any mother of a large family silence is golden…
Tags: St Agnes