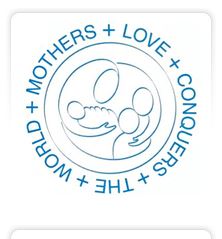 For any mothers who know they need God's help in their family life but are not sure how to turn to him: Take a look at this information from the Mothers Prayers website.
Mothers Prayers was formed to help those mothers who wished to pray together for their children and grandchildren and to find the support they needed.

'Stop your crying and wipe away your tears. 

All that you have done for your children will not go unrewarded. 

They will return from the enemy's land.


There is hope for your future.


Your children will come back home.


I, the Lord, have spoken'.

(Jer 31: 16,17)
This is the history of the group:
Mothers Prayers was started in England in November 1995 and has spread rapidly throughout the world with contacts in over 100 Countries and has the approval, support and blessing of Christian leaders of all denominations.

There are now thousands of groups around the world. Two grandmothers, Veronica and her sister-in-law Sandra, felt led by the Lord to start Mothers Prayers and to pray in a special way for their children

They felt that they should bring all the pain and the worries they had for their children to Him and to trust in His words 'Ask and you will receive'.

Through this promise, they understood that the Lord is just waiting to take away pain and to bless and heal them and their children when they come to Him in Faith.

During these years there have been many, many wonderful answers to prayers including children coming off drugs, children returning home after being absent for many years, improvements in children's health and relationships (in the family and at school).

The mothers also have been blessed and have experienced a great peace.
This is how they structure the meetings:
A prayer group may be started with only two mothers. Members meet every week and obey the strict rule of confidentiality.

During the meetings a mother may share her worries without the fear of anything being repeated outside of the meeting. The other mothers support her in her prayer and she will feel supported by thousands of mothers around the world who are also part of Mothers Prayers.

Mothers experience a great peace with the blessing of this wonderful prayer support.

At the meeting we use our special prayer booklet and gather around a small table on which we have placed:-

A Cross to remind us that Jesus is our Redeemer.
A Candle to remind us that He is the Light of the World.
A Bible to remind us that He is the Living Word.
A small Basket at the foot of the Cross ready to receive the names of our children written individually on small paper discs as a symbol of our placing them into Jesus' care.

We follow our booklet of prayers but we also allow time for spontaneous prayer.

The prayers in the booklet are informal and are just words that speak from a Mother's heart to the Lord.

This booklet has now been translated into 40 languages.
This is their prayer:
Lord Jesus, we come before you as mothers, wanting you to bless our children, and all children throughout the world.

We thank you for our children – they are a precious gift to us. Help us, always to remember this, especially when they are in difficulties

Lord, they live in a troubled world – a world that does not always acknowledge you, – a world that may sometimes cause them to be laughed at if they admit to belief in you.

Help them to be strong, Lord. Helps us to know that you are always with us – sharing in the joys and in the sorrows, joining us in the laughter and weeping with us in the pain.

Please give us all the graces we need, to fulfil your plans for our lives and for our duties in our families. You are Almighty God. You can change things.

So we turn to you in faith and love knowing that you will answer our prayers. Lord let us always remember how much you love us and our children and how you urge us to come to you with our problems.

Amen
And their contact details, especially if you are interested in starting a group:
If you would like to know more about Mothers Prayers, how to start a group or details of where to find the nearest group, please contact:-

Mothers Prayers of the Solace Community
P.O. Box 416
Sevenoaks
Kent TN14 6WE
England.

Or email us at office@mothersprayers.org
Tags: children, faith, family, featured, mothers prayers, prayer