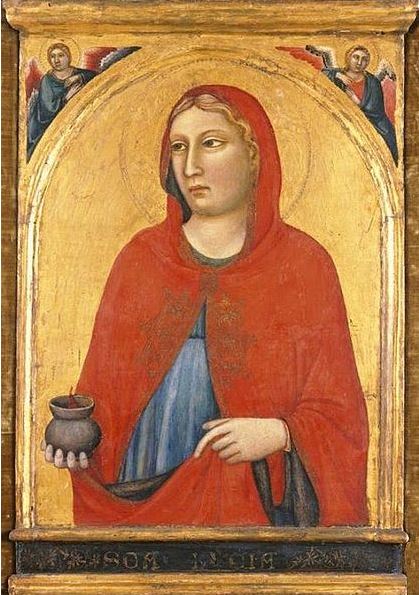 There are many legends surrounding St. Lucy. She is a young woman who courageously gave her life for the faith. Legend has it that St.Lucy and her mother prayed at the tomb of St. Agatha, to try to get a healing for her mother's long term haemorrhage problem. Her mother was cured and Lucy received a vision of the Saint who foretold her of her martyrdom.
St. Lucy's mother wanted her to get married, but having given her life to Christ, Lucy declined the offer of marriage from one of her suitors. He, being furious, reported her for being a Christian. She was dragged before the Praetorium and sentenced to a house of ill repute. However, when her persecutors tried to drag her off she could not be moved. Confused, they brought in a yoke and oxen to drag her through the streets. But even this could not move her. As their rage grew they poured pitch oil and resin over her, set her alight and stood back to watch her go up in smoke – she didn't. So finally in absolute frustration they plunged a dagger in her throat and she died, thus sending her straight to Heaven.
To celebrate the feast of St. Lucy in Sweden, it is traditional for the eldest daughter to wake the family dressed in a white dress tied with a red sash. On her head is a crown of fresh pine evergreens, lit with seven candles. She brings warmed saffron buns and steaming hot coffee to her parents and siblings who are still resting in bed! Nice thought isn't it? However, I must admit the idea of my young children getting up early, going downstairs, making hot coffee, using the oven and then playing with matches is not something that I would relish, nor would it get my morning off to a relaxing start.
In celebrating the liturgical year with your family, the notion of celebrating the feast days is to help build traditions and memories into the life of your children. So if there is not time in the morning or your children are too young or too old, then you can take the concept of the feast day and make it your own. For example: decorate the breakfast or dinner table with a white tablecloth, give everyone red napkins. Place some nice evergreen in the centre with some candles and enjoy a "St. Lucy" meal with saffron buns or cinnamon whirls for pudding.
Tags: St Lucy