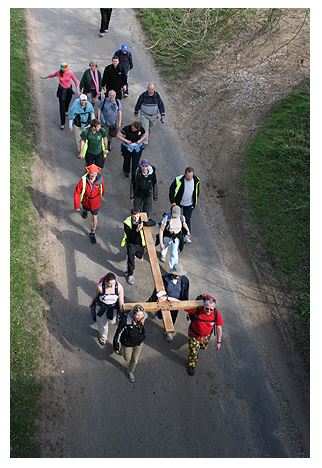 Student Cross is a pilgrimage organised by and for students, young adults, and pilgrims of all ages, which has been running since 1948. Pilgrims experience Holy Week and the joy of the Resurrection as a living reality. It's a chance to celebrate Easter in a unique way. VISIT THE WEBSITE HERE.
Eleven different groups, known as Legs, walk from different parts of the country across Norfolk to Walsingham. Kind-hearted parishes provide food and accommodation along the way. Each Leg carries a large wooden cross as a witness to the people they pass. To find out more about the different routes, please visit the Legs pages.
The climax of the week is in Walsingham, a centre of pilgrimage for many centuries. This is where all the Legs meet up to celebrate the Easter liturgies together over the Easter weekend, including a vibrant Paschal Party after the Easter vigil on Saturday evening.
Facts and figures
Student Cross first started walking from London to Walsingham in 1948. It was originally a male-only Catholic pilgrimage and pilgrims had to carry all of their belongings

Northern Leg started in 1949, leaving from Nottingham. Since then, Oxford (1962), Midland (1971), Essex (1972) and Kettering (1975) have also been founded, walking for the full week

Ely Leg was started in 1996. It starts on the Wednesday and walks for three days

Two family legs – Peg and Wells – meet on the evening of Palm Sunday. Wells Leg is the newer, having begun in 2006.

A new leg for families with older children of secondary school age – Wensum – begins in 2012. It will walk shorter distances of no more than 10 miles per day over 3 days.

Easter Leg, which only walks on Good Friday, celebrated its 50th anniversary in 2008.

Women officially started walking in 1966, though, previously, there had been many occasions when they helped carry the cross while 'stronger' men recovered from their blisters and other ailments.

Christians of other denominations started walking Student Cross in the 1960s. Although, Student Cross is still predominantly Catholic, hundred of fellow Christians have walked and will continue to walk on Student Cross

Famous people to have walked Student Cross include Big Brother 2006 winner Pete Bennett (albeit as a child), novelist David Lodge and Bishop of Portsmouth Rt Rev Crispian Hollis.
Brief history of Student Cross
In the autumn of 1947 Wilfred Mauncote-Carter, organised a cross carrying walking pilgrimage from London to Walsingham in Norfolk during Holy Week 1948. During Holy Week 1948, some 30 students plus several chaplains took part in the first Student Cross pilgrimage to Walsingham. In 1949 a second group or leg was started, and walked from Nottingham.
Interest in Student Cross continued to grow and in 1957 two new Legs were created; Midland, which started from Kettering; and the other, Graduate Cross (now Easter Cross). Midland leg walked for a full week, whilst Graduate Cross, a one day walk, was intended to be a one day walk for post-graduates or former students who could not walk a whole week but who still wished to be part of the pilgrimage. A fourth Student group, Oxford Leg was started in 1962.
In the mid-1960s Student Cross faced its first period of decline, and during this period the Midland leg folded and did not walk again until the mid 1970s.1967 saw the first 'official' women walkers; it is thought that women had walked in previous years, although on an 'unofficial' basis.
The 1960s also saw efforts to make the pilgrimage ecumenical and Oxford Leg soon had equal numbers of Roman Catholics and other Christian students. Student Cross was officially declared ecumenical in 1972 and has remained so ever since, although it still has a Roman Catholic flavour.
Student Cross revived in popularity and a new Midland Leg was started in 1971. 1972 saw the start of Essex Leg, walking from Colchester and Kettering Leg started in1975. Between 1981 and 1986 there was Family Cross, an associated pilgrimage for families with very young children. Family Cross was revived in 1992 as Peg Leg and Ely Leg, which walks for 3 days, was added in 1996.
Student Cross regularly attracts between 220 to 250 pilgrims each year.
In the early years Student Cross was under the auspices of the Catholic Student Council (CSC) and was responsible for organising each years walk and in some cases subsidising the pilgrims. CSC involvement with Student Cross seemed to end during the 1960s and 70s and since then Student Cross has been entirely self-organising.
Frequently asked questions
Who walks and when does it happen? 
Students and young people from all over Britain and internationally – mainly Roman Catholic but from other Christian Churches as well. Pilgrims come from as diverse backgrounds as students themselves. Most groups will meet on the evening of the Friday before Good Friday, but there are options to start later. It finishes on the afternoon of Easter Sunday.
What gear do I need?
All you need will be cheap or easy to borrow – as long as you've got a waterproof, a sleeping bag and some trainers, you'll be alright. No specialist equipment is needed.
How far is it? 
Most groups walk 120 miles. It's easier than you think – there's lots of stops and walking with a group provides a great boost. Your luggage is taken in a car and if it gets too much, so are you.
Do I need to be really fit? 
Many confirmed couch potatoes have completed the walk without much difficulty. However, some preparation can be helpful. As little as two weeks' preparation with simple stretches and exercises would enable you to tackle the week.
How much does it cost? 
Costs vary, though students and the unwaged can expect to pay between £30 and £60. This covers all your food and accommodation for the week. The only other extras you have to find are money for drinks and about £15 for a coach back from Walsingham. Financial support towards the cost of the pilgrimage is available from the Student Cross Association – please ask for further details.
What if I don't know anyone? 
Don't worry, you soon will. Previous walkers are very keen to meet new faces and there will be other people in the same boat as yourself. Many very strong friendships are formed during the week.
Can I help to advertise Student Cross? 
Yes. Please download our poster (PDF 319k) and leaflet (PDF 380k) to display in your chaplaincy, parish or wherever else you want.
Do you have any information for the media? 
Yes. Please look here for a news release on this year's pilgrimage and details of photo opportunities.
How do I get home at the end of the pilgrimage?
There are coaches leaving Walsingham at 3pm on Easter Sunday bound for London and Leicester. Find out more on our travel news page
[All text is from the Student Cross website here]
Tags: Student Cross