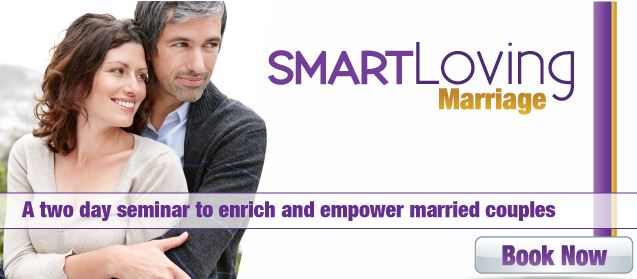 Take a look at the SmartLoving website for details of some marriage enrichment weekends that are taking place over the next few months.
Couples who stay successfully and happily married have made marriage their mission. They choose not to just 'settle down' and coast along, but to actively keep growing in their relationship.

Everyday experience tells us that men and women are different. These differences can leave us frustrated and mystified or they can be the source joy and passion.

Whether your marriage is solid and loving or stressed and fragile, if you are looking to advance your relationship, think about joining hundreds of couples who have attended a SmartLoving Marriage seminar.

In two packed days, learn some of the most up-to-date ideas and skills on offer and, in the process, rediscover the joy of being a man and woman in love.
AN ENGAGING PROGRAM FOR MARRIED COUPLES THAT REALLY WORKS
REFRESHING INSIGHTS AND POWERFUL STRATEGIES TO RE-INVIGORATE YOUR MARRIAGE
DRAWING ON THE WISDOM OF THE AUTHENTIC CATHOLIC TEACHINGS ON THEOLOGY OF THE BODY
THE SEMINAR TEACHES COUPLES HOW TO APPROACH THEIR MARRIAGE WITH RADICAL LOVE WITH PROFOUND RESULTS
How has the seminar benefited some of our participants' marriages?
SEXUALITY: "It has helped confront some issues of hurt and communication in the sexuality of our marriage – painful but essential."
RESOLUTION: "It's given us insight into resolving different aspects of our relationship. It has helped to give us the right spiritual and intellectual environment to decide on how we can resolve certain things in our marriage."
HEALING: "My eyes have been opened to what in me needs healing; how my unhealed history hurts my marriage…; how I can practically change this."
RECONNECT: "It has helped to reconcile deeply with my wife and renew our sexual life."
REKINDLE THE FIRE: "It has rekindled hope where I thought there was none…"
LIVEN UP THE DORMANT: "Very helpful, however many years one is married, to recapture treasured moments and bring to life dormant areas."
SPIRITUAL ENRICHMENT:  "The treasures of the deep, authentic Catholic Teaching have enlightened our whole approach to the sacramental gifts of our marriage!"
BRINGS HOPE: "Helped us to understand one another enormously – to recommit to one another and many other ways. To give us hope for the future."
Tags: marriage, Relationships, SmartLoving