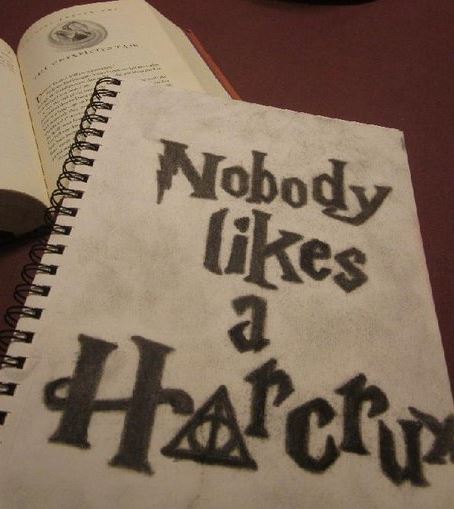 Just in case you don't know what a Horcrux is:
Slughorn: "Well, well, it can't hurt to give you an overview, of course. Just so that you understand the term. A Horcrux is the word used for an object in which a person has concealed part of their soul."

Riddle: "I don't quite understand how that works, sir."

Slughorn: "Well, you split your soul, you see, and hide part of it in an object outside the body. Then, even if one's body is attacked or destroyed, one cannot die, for part of the soul remains earthbound and undamaged. But, of course, existence in such a form…few would want it, Tom, very few. Death would be preferable."
Tom Riddle (a.k.a. Voldemort) had to try hard to find out about horcruxes, but now any Harry Potter fan could tell you all about them. They are objects which guarantee immortality, but at a cost: the soul is split and lives on in its two locations (the body and the chosen object) in attenuated form. Professor Slughorn knew how awful a thing this was: 'you must understand that the soul is supposed to remain intact and whole. Splitting it is an act of violation, it is against nature'. In short, horcruxes are not good news…
At this point you're probably wondering why a Dominican is writing about horcruxes… Well, I was in the university library recently, daydreaming about nothing in particular, and I noticed the enormous proportion of my fellow students who were more engaged with hi-tech devices – phones, tablets, laptops – than with the books laid out in front of them. It's possible that some of them were genuinely studying, but most seemed to be either texting or tweeting or facebooking. Nor did any of them seem to be particularly content or comfortable in their multi-tasking – rather, they flitted anxiously from the task in hand (study) to gadgets and back again.
I've noticed this same phenomenon in all sorts of places: a conversation between friends in a café, punctuated by quick phone-checks; laptops in a lecture theatre bringing their owners' attention away, again and again, from the words of the teacher;  even prayer can be interrupted by tech-anxiety ('I wonder whether anyone commented on my status'). It was only last week in the library, though, that I made the connection with horcruxes.
Think about it: by means of our phones and our social media profiles we effectively 'split' ourselves. There is the 'I' who inhabits my body, who walks, talks, smells flowers and listens to music. Then there is the 'I' who inhabits my phone or facebook page, who engages with his world via a different protocol. The 'body-I' has a limited perspective on the world, and is subject to chance encounters, while the 'virtual-I' has an all-seeing perspective on its social universe, and carefully controls the content and audience of its self-revelations. Importantly, the body-I follows a daily rhythm of activity and rest, but the virtual-I never sleeps.
The soul-split involved in this technological horcruxing brings with it, I think, considerable anxiety. The natural desire for the soul to 'remain whole and intact' (to use Slughorn's words) is frustrated by the perpetuation of this split, and so the social media user is driven to bring the body-I and the virtual-I together into a unity as often as possible, and for as long as possible. Is this why social media addiction is so powerful? Is this why so many of us spend so much time engaging in what is an essentially unsatisfying activity? If we were to describe our online activity to our ancestors, they might respond with Slughorn: 'existence in such a form… few would want it, very few'. And yet, they'd be wrong – technological horcruxes, even with their attenuation of human experience, are surprisingly popular.
What do you think? Is the split-soul analogy a bit over the top? If not, how should we heal our divided hearts? Does the Bible, with its constant emphasis on wholeness of heart (Deut 6:4-5, Ps 86:11, Ezek 11:19), offer some help? Comments below!
Tags: addiction, Facebook, featured, Horcrux, Horcruxes, social networking, technology addiction