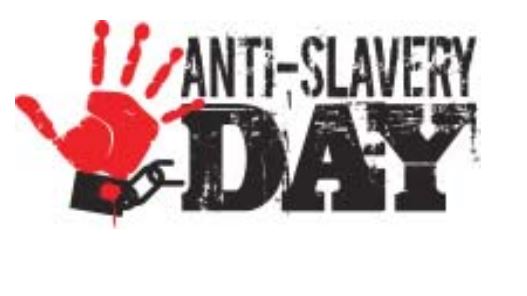 Today, 18th October, is Anti-Slavery Day, which was created by Act of Parliament 'to raise awareness of modern slavery and to inspire people to eliminate it.' As the Anti-Slavery Day website explains:
The Anti-Slavery Day Bill became law in 2010. It was introduced in Parliament as a Private Members Bill by Anthony Steen MP for Totnes, South Devon, in 2010 and passed through both Houses, unopposed although amended. The bill defines modern-day slavery as child trafficking, forced labour, domestic servitude and trafficking for sexual exploitation.
As one example of the horror of modern-day slavery, see this explanation from their 'What is human trafficking' page:
The exploitation of human beings for profit takes many forms, including sexual exploitation, forced labour, child trafficking, and domestic servitude. The efforts of successive Governments to tackle its causes and effects have met with limited success, not least because of the fluidity and reach of trafficking networks, which are quick to adapt to changing circumstances. Limited public understanding of the issue compounds the problem: people are slow to recognise instances of trafficking in their midst and to report these to the police.

Slavery today is a global business and the source of huge profits for the traffickers and crime syndicates. The UK began to wake up to the horrors of modern slavery in February 2004 when 23 Chinese cockle pickers drowned in Morecombe Bay. Since that time campaigners have exposed a pernicious human trafficking problem across the UK. Support agencies, police and the wider community have identified thousands of victims of trafficking including women and girls; men and boys. They have been trafficked from every corner of the world and are found in ordinary cities and towns across the UK.  Traffickers also target the vulnerable within the UK, moving them around from place to place and making money out of their exploitation. Victims of trafficking are victims of slavery and the UK has a duty to protect them, provide a safe haven and prosecute those who exploit them.

United Nations figures suggest that 800,000 people are trafficked annually in one form or another: indeed there are more people in slavery today than in the entire 350 year history of the Transatlantic Slave Trade, and 1 in 8 of those is in Europe. Human trafficking is nothing less than serious, international, organised crime: it is now the second most lucrative organised criminal activity worldwide generating an estimated $32 billion per annum (International Labour Organisation).

In the past year, over 200 recently trafficked individuals – men, women and children – have been discovered in London (and identified as such to the Government funded National Referral Mechanism administered by the UK Border Agency). The Metropolitan Police believe that these figures represent only a fraction of all those trafficked into the capital and trapped by fear (for their safety and that of families back home), hugely inflated debt, and powerlessness in the face of a strange country, language and culture in which they do not know where to turn for help. The police are well aware that most victims will not seek their help, believing that the authorities cannot be trusted and the police – like those in their own countries – are corrupt and themselves linked to organised gangs.
If you want to respond and get involved, see the list of the organisations supporting Anti-Slavery Day here; and check out the Just Enough UK App here.
Tags: anti-slavery, Anti-Slavery Day, human trafficking, slavery