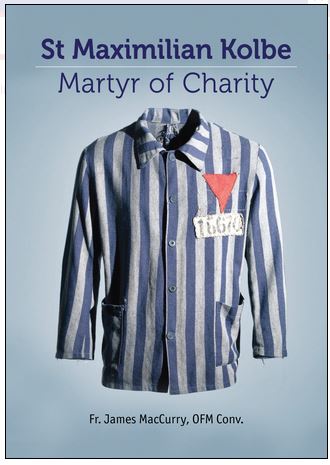 Eighteen months ago, I made the decision to stage a theatre production of the play "Kolbe's Gift" by David Gooderson at The Leicester Square Theatre, a 400-seat off-West End theatre, for a week of performances this coming October.
I had known the play for some time and was very fond of its fascinating story, exploring how Polish priest Maximilian Kolbe sacrificed his life for another man in the Auschwitz concentration camp, and the impact on Franek Gajowniczek, the soldier whose life was saved.
However, going into the project I did not have a particular affinity with Kolbe myself.  For me, he was a tricky character to understand. As a child, Kolbe had a vision of Our Lady and committed himself to giving his life utterly to the Virgin Mary.  In his teens, he was determined to become a soldier in the army, but later followed his vocation into the priesthood when he set up a new "army", the Militia Immaculata Movement.
He seemed to be a great leader, a spiritual warrior, and intelligent man:  he learnt Japanese and set up monasteries and printing presses in Poland and Nagasaki, Japan.  And then, when he had the option to sign the Volkslist and avoid prisoner of war internment, he firmly stood side-by-side with his Polish brothers and sisters and went to Auschwitz.
Despite physical frailty, Kolbe was not a weak, meek man, and it makes his final act of giving his life for another fascinating.  I found it hard, however, to get under his skin and understand him.  It was one of the main reasons why I wanted to produce the play, to get to know him better.
I have been staggered by the number of people who have approached me with their stories of how Kolbe has been an inspiration to them. I've had conversations with Poles who talk of him as an iconic cultural figure; a seminarian who quotes him as a key inspiration for his vocation; a Japanese lady who tells me of his importance to the growth of Catholicism in her country; and others, young and old, who have been touched by the man in some way.
The response to our production has also been very telling.  All 2,800 seats were fully booked three months in advance of the opening night and people are travelling to London from all over the UK to see the production.  The waiting list for tickets at the theatre is, I understand, pretty long too…
I am still learning about Kolbe and trying to understand the man behind the Saint.  Two things are helping: first is the performance by our actor playing Kolbe, John Ioannou, who brings much depth and understanding to the role.  I learn much about the man through John's interpretation. Second is the growth of material about Kolbe that has been generated as a result of this production, including a short film made by students, and a photographic exhibition in Notre Dame de France Church in Leicester Square.
However, perhaps the most enduring legacy so far is a new booklet that has been written to coincide with the theatre production and produced by the Catholic Truth Society.  "Maximilian Kolbe: Martyr of Charity" is written by Fr James McCurry, the Provincial of the Conventual Franciscans.  Fr James knows St Kolbe's story well, having been part of the committee promoting his canonisation and a personal friend of Franek Gajowniczek.  Given the dearth of material currently available on Kolbe, it is a fascinating and important read.
You can visit the website for the production at www.kolbesgift.com
See the film trailer for Kolbe's Gift (with John Ioannou as Kolbe)